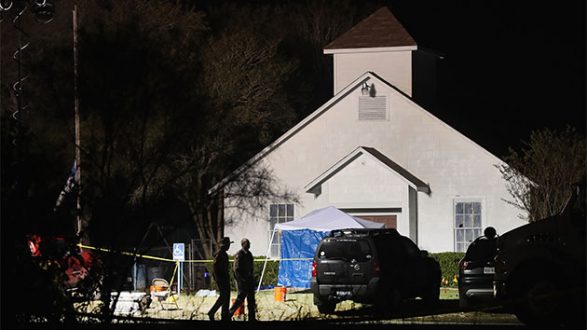 Scott Olson/Getty Images(NEW YORK) — This month's slaughter inside a small Texas church has compelled the church's pastor to carry a gun, but some fellow clergy are already armed with the goal of protecting their congregants.
"Churches are more vulnerable than ever before," pastor Joe Worley of First Baptist Church in Groves, Texas, said.
His congregation is about three hours east of Sutherland Springs, where Devin Kelley allegedly blasted his way into a church Nov. 5 with a high-powered rifle, killing 26 people and wounding 20.
While Worley, 56, puts his "trust in the lord," he's shaken by such mass shootings, the clergyman said.
"You think that it will never happen but we need to be careful, as Christians, not to be naive," he said.
There have been other recent attack on churches.
A gunman shot and killed one person and injured seven others with gunfire at the Burnette Chapel of Christ in Antioch, Tennessee, on Sept. 24.
Two years ago, Dylann Roof apparently spurred by white nationalist views, killed nine people who were meeting for a bible study at the Emanuel African Methodist Episcopal Church in Charleston, South Carolina.
And an usher was slain inside the Reformation Lutheran Church in Wichita, Kansas, in 2009. In Arvada, Colorado, at the Youth With a Mission Center, Matthew Murray shot two people in 2007 before heading to Colorado Springs to kill five other people gathered at the New Life Church, where a volunteer security guard shot him with a gun of her own.
The First Baptist Church in southeast Texas is like any other, meant to be a place of reverence; a safe haven for anyone to pray and express spiritual beliefs.
"You allow people to come in regardless of where they are in life," pastor Worley said. "But being gracious creates an exposure."
A couple years ago, he said, a member who worked as a policeman asked him about the church's emergency plan. "We don't have anything," Worley said he replied.
Then, he said, the church went from novices to understanding how to become the "tip of the spear" for church safety.
The church founded the Hedge Ministry, which is inspired by the bible to "create a defense," Worley said.
The ministry now boasts 40 trained staffers who staff doors and monitor closed-circuit cameras, while several members have concealed-carry permits.
Worley also oversaw the installation of a "lockdown room" in the church's nursery.
"If there's something happening in our building, a magnetic door shuts and a shooter would not be able to get into that room," he said.
The room's phone, the pastor said, "dials one number only": to police.
Worshippers who come to his church are permitted to carry concealed weapons. Although Texas is an open-carry state, anybody coming with weapons in the open are "asked to cover," he said.
But Worley himself, who is licensed to carry a concealed weapon, refuses to wear his weapon while preaching.
"I've told my safety team, 'Listen, I can't be up there teaching and preaching and also carrying. So I'm going to trust in the Lord and trust you guys that if something happens, you will act,'" he said.
Arming other churches
At the Marengo Christian Church, 45 minutes north of Columbus, Ohio, pastor Jeff Copley remembered what he said a law enforcement member told a religious leaders' conference a decade ago: "These mass shootings are going to be a problem for your churches."
He remains convinced that churches are vulnerable.
"We have largely become soft targets," Copley said.
He started concealed-carry training courses in 2004 as a way to increase attendance and posted a sign on the building that grants members the right to bring arms into the Morrow County church.
Since then, he has seen his 50-member evangelical congregation, including farmers, machinists and highway workers, turn to firearms.
"We say it's their right if they want to exercise it, and others have been mugged or disabled by vicious attacks," he said. "There's also women who are abused by a spouse or victims of rape."
He declined to say whether he carries a gun in the pulpit.
At the kickoff of each training seminar, Copley said, he recites the same directive.
"I say, 'I pray for them, I pray for myself that, whenever I put my gun on, my prayer is I will never have to use it," he said. "So far, that's been an answered prayer."
Despite a Maryland congregation filled with some of the finest law enforcement and intelligence members in the federal government, pastor Lincoln Burruss scheduled a concealed-carry course for him and his wife.
"My wife and I have been talking about getting a gun in the house," the pastor, 52, and father of three children said.
Burruss said he preaches to 1,200 members at the Central Baptist Church of Camp Springs in Temple Hills, Maryland. "I'm fine without a gun, but it [sets] my wife at ease."
He and his wife will join several members of his congregation in a concealed-carry course so they can legally be armed.
The church, he said, has surveillance cameras, and an armed security detail for many members of the CIA and FBI sitting in the pews.
He doesn't think he needs a gun on his person while delivering a sermon because many things are out of his hands.
"The bible says as time goes on folks are going to become more wicked," he said. "So there's no more fear."
Still, Burruss wants to help his congregation feel safe, he said, which means turning to bolder measures like firearms.
"I have a lot of folks here that are worried," he said. "I say, 'We're in God's hands and I will continue to put measures in place to keep my people safe.'"
Guns as a 'minimizer'
John Brenner, president and chief instructor at the Tactical Defense Institute, which has trained some Ohio school administrators and some of pastor Copley's church security ministers at Marengo Christian Church.
More clergy are seeking ways to be ready if someone comes to the churches to kill, Brenner said.
"It's dawned on everyone that bad things happen to good people," Brenner, whose West Union, Ohio, company provides firearms and physical-defense training, added.
But he's not saying that guns are a panacea. Rather they are a "minimizer," he said, and certainly stand a good chance of reducing the death toll in the hands of someone trained to use them.
That means having a "staff of properly trained people" who are willing to put in the extra time, he said, and do more than just the concealed-carry permit seminars. They need rigorous training, he added.
The risks of arming churches
Larry Johnson's phone hasn't stopped ringing at the Rhema Bible Training College in Broken Arrow, Oklahoma, since the Nov. 5 church shooting in Texas.
"We're living in a torn society right now," the school's director of security said. "Twenty years ago, we would never dream of these things happening."
A former bodyguard for the late televangelist Oral Roberts, Johnson said the urgency to protect churches is reaching a fever pitch, but cautions that congregants' carrying guns could deliver more bloodshed.
"I'm not against people being armed in the church, but I'm saying they need to be trained so if there is an emergency, they can respond and react professionally," he said.
The concealed-carry permit requirements give people a "false sense of security" and don't do nearly enough to protect others, Johnson, a retired Tulsa policeman who has worked in law enforcement for 42 years, said.
Gun choice, ammunition and experience all factor into whether a mass shooter can be stopped, and without collateral victims, Johnson said.
"If you're going to have people in the audience who are not law-enforcement trained carrying weapons in case of an emergency occurs," he added, "you can't be confident those people are good marksman."
"They need to be trained by professional people."
He believes the risks are too great for his 14,000 members, many of them college students, who attend services on the 500-acre campus.
Rather than arming everyone, he said, training the ushers to become "the backbone of your security" can be a strong first line of defense.
"If you greet people at the door and you say 'My name is, and what's yours?' that throws them off," he said. "That puts them in a state of paranoia. Ushers can perceive problems before they even start."
The family of church
Pastor Copley, who likens himself to a shepherd protecting his flock, said members of his Ohio church are just like his own kin.
"These are my family," he said. "It's the same heart connection."
If he's ever confronted by a mass shooter, Copley said, he would fight to protect anybody from harm.
"This church is where my children were born, where my loved ones passed away," he added. "If someone breaks down my door and attacks my family, I will protect them by any means."
Copyright © 2017, ABC Radio. All rights reserved.