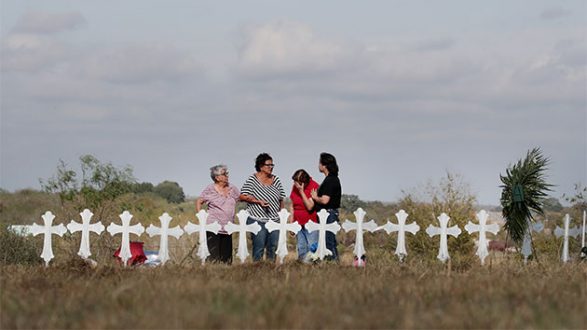 Scott Olson/Getty Images(NEW YORK) — The first wife of Devin Kelley, the Air Force veteran police say carried out a mass shooting at a rural Texas church last week, told "Inside Edition" that he abused her during their relationship.
"He would choke me, punch me, kick me," Kelley's first wife, Tessa Brennaman said.
In an interview with "Inside Edition" that is set to air Monday, Brennaman said the two met working together at a burger restaurant. After they married, they moved from Texas to New Mexico.
Kelley was funny and charming at first, she said, but he turned abusive.
"There would be times where I would be on the floor curled up, and having to protect my organs because he would be violently kicking me on my side," she said in the interview clips released by "Inside Edition." "Like I was less of a person, is how it made me feel."
Kelly threatened to kill her and her family if she came forward, Brennaman said.
She said he told her, "I could just bury you somewhere here in the desert and nobody would ever find you."
According to "Inside Edition," Brennaman said Kelley once pulled a gun and held it to her head while they were driving on an empty road.
"He told me, 'Do you want to die'"? she said.
But she didn't believe her former husband would carry out a mass shooting, Brennaman added.
"I never suspected he would be killing random people," she said.
On Nov. 5, after Kelley opened fire at the First Baptist Church in Sutherland Springs, Texas, 26 were left dead according to the police count which included an unborn child. Another 20 people were injured, according to authorities. Kelley died after the attack in what is believed to be a self-inflicted shooting. The attack has been called the worst mass shooting in Texas history.
Copyright © 2017, ABC Radio. All rights reserved.