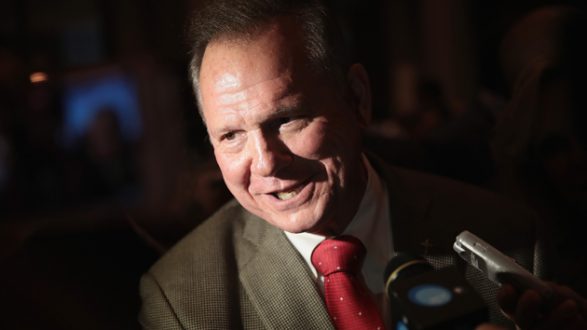 Scott Olson/Getty Images(BIRMINGHAM, Ala.) — Five women have accused Republican Senate candidate Roy Moore of sexual misconduct or impropriety.
He has denied any wrongdoing and points to a political conspiracy as the reason why the allegations are being made public now.
Four of the accusers were named in a Washington Post article and the fifth accuser came forward and told her story in a news conference Monday.
Ahead, here is a summary of the accusations against Moore and what he has said about each case.

Leigh Corfman
Corfman spoke to The Washington Post and accused Moore of making sexual advances toward her.
Corfman told the paper that she met Moore outside a courthouse in 1979 where her mother was attending a child custody hearing. Moore, who was then a 32-year-old assistant district attorney, volunteered to wait with the young teen while her mother went inside for the hearing.
When they were alone together, Corfman told the paper that Moore asked for her phone number. Corfman said he later picked her up for a drive around the corner from her house and drove her to his house, where Moore kissed her. She alleges that Moore removed his clothes during a second visit and touched Corfman over her underwear and also guided her hand to touch him.
On Nov. 10, the day after The Washington Post article was published, Moore spoke to conservative personality Sean Hannity on his radio show and denied the allegations, at times going into specifics about the different allegations.
When asked about Corfman, Moore said, "It never happened."
"I don't know Miss Corfman from anybody. I never talked to or never had any contact with her. Allegations of sexual misconduct with her are completely false," Moore told Hannity.
"I never knew this woman. I never met this woman and these charges are politically motivated," he added.
Wendy Miller
Wendy Miller, the second woman named in The Washington Post story said that she first met Moore when she was 14 years old and working as a Santa's Helper at the local mall. She said Moore asked her out on dates two years later but they did not go out because her mother forbade it.
During the same interview with Hannity, Moore was asked about both Miller's claims and then about Corfman's in the same question, and he pointed to political sabotage as the explanation for all of the allegations.
"I've run five successful campaigns or five campaigns, statewide campaigns, three in the county. This has never been brought up. It has never been even mentioned and all of a sudden, four weeks out, they're bringing out — they're bringing up — because it's political. It's a direct attack on this campaign and it involves a 14-year-old girl, which I would have never had any contact with — nothing with her mother or any courthouse or anywhere else — would I have done that," he told Hannity.
Debbie Wesson Gibson
Debbie Wesson Gibson told The Washington Post that she was 17 years old when she met Moore after he spoke to her high school civics class. Gibson told the paper that it was then that Moore asked her out on several dates "that did not progress beyond kissing."
Moore said that he did recognize the maiden name of this accuser, Debbie Wesson, and a subsequent accuser, but denied the allegations.
"I do not remember speaking to civics class. I don't remember that. I do not remember when we … I seem to know or remember knowing her parents … that they were friends. I can't recall the specific dates because that's been 40 years, but I remember her as a good girl. But neither of them have ever stated any inappropriate behavior. She didn't say anything," Moore told Hannity on the same program.
Moore said that he doesn't "remember specific dates." Hannity then asked him again, "You never dated her ever? Is that what you're saying?"
"No, but I don't remember going out on dates. I knew her as a friend. If we did go on dates then we did. But I do not remember that," Moore replied.
Gloria Thacker Deason
Gloria Thacker Deason told The Washington Post that she was an 18-year-old cheerleader when Moore started taking her out on dates. During those dates, they drank bottles of wine, which would have been illegal for Deason at the time because the drinking age in Alabama was 19.
When Moore was asked by Hannity if the dates with Deason happened, and specifically if they included the consumption of alcohol, Moore said: "No. Because in this county is a dry county. We would never would have had liquor."
"I never provided alcohol, beer or intoxicating liquor to a minor. That'd be against the law and against anything I would have ever done," Moore said.
In spite of what Moore said, the county was not dry at the time that Deason alleges she went on dates with Moore. According to The Washington Post article, the dates that she alleges happened would have taken place in Etowah County in 1979. Etowah County approved legal alcohol sales in 1972.
Earlier in the interview, Moore acknowledged that he recognized Deason's maiden name.
"I seem to remember her as a good girl or I seem to remember I had some sort of knowledge of her parents, her mother in particular," Moore told Hannity.

Beverly Young Nelson
The latest accuser came forward on Monday, reading a detailed statement at a news conference in New York alongside attorney Gloria Allred.
Beverly Young Nelson said she met Moore when she was 15 years old while waiting tables at a restaurant in Gadsen, Alabama. The future judge acted in a "flirtatious manner" and even signed her yearbook "Merry Christmas" and "Love, Roy Moore, D.A," Nelson said.
Nelson said that a short time later, after she turned 16, Moore offered to give her a ride home after work one night.
Instead, she said, he parked his car next to a dumpster behind the restaurant and sexually assaulted her.
"Mr. Moore reached over and began groping me, putting his hands on my breasts," Nelson said in her statement. "I tried to open my car door to leave, but he reached over and locked it so I could not get out. I tried fighting him off while yelling at him to stop, but instead of stopping, he began squeezing my neck, attempting to force my head onto his crotch."
"I continued to struggle. I was determined that I was not going to allow him to force me to have sex with him. I was terrified. He was also trying to pull my shirt off. I thought that he was going to rape me. I was twisting and struggling and begging him to stop. I had tears running down my face," Nelson said in her statement.
"At some point, he gave up. He then looked at me and said, 'You are a child. I am the district attorney of Etowah County. If you tell anyone about this, no one will believe you,'" Nelson added.
Moore spoke publicly, calling Nelson's accusations of sexual misconduct against him "absolutely false."
Moore denied ever knowing Nelson and said he "never did what she said I did," going on to call the accusations a "political maneuver."
Moore also said he is unfamiliar with the restaurant that Nelson worked, while she claimed he had been a regular customer.
Moore did not respond to ABC News' requests for comment.
Copyright © 2017, ABC Radio. All rights reserved.