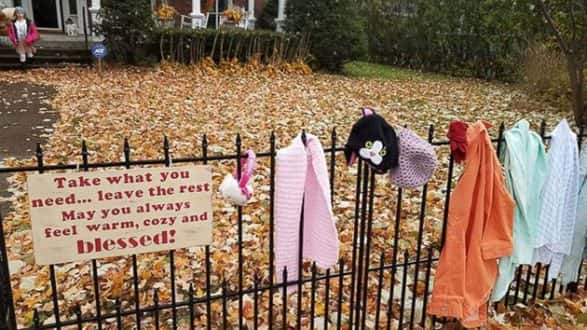 The Blessing Fence/Facebook(GOSHEN, Ind.) — Donated coats, hats, scarves, mittens, and boots adorn the wrought iron fence in Lynda Salisbury's front yard next to a sign that reads, "Take what you need, leave the rest, may you always feel warm, cozy, and blessed."
The free, warm clothing is part of the Goshen, Indiana woman's "blessing fence" to help neighbors in need.
"The theme of it is anonymous giving for anonymous receivers. Everything is anonymous," Salisbury told ABC News. "I don't have a list of names or know who receives any of it."
Salisbury said she was inspired by a Facebook post in 2014 about larger cities tying scarves around trees in their parks for the homeless. She wondered if her neighbors would benefit from the same idea and "if we could do this on my fence," she said.
She said she started small her first year, putting her own discarded winter clothing on the fence and posting photos of it to her personal Facebook page.
"People responded," Salisbury said. "They started bringing their scarves to hang on my fence. It was a success."
The blessing fence has grown tremendously in the four years since and has now blossomed into a full-blown community effort. Salisbury created a public Facebook page called The Blessing Fence where people can check what items have been donated or what is still needed.
"The community literally has taken this over. All I do is manage the fence," said Salisbury. "I provide the fence and then the community watches the Facebook page where they'll know if we need more items or not. The community then started adding hats and mittens and coats and flannels and socks and shoes and work boots."
She said she's even received donation boxes from as far away as Texas, Tennessee and South Carolina, and her 7-year-old daughter, Olivia, has gotten in on the effort.
Salisbury said that seeing the response to the blessing fence has been a blessing in and of itself.
"When we see people walk up, both of us will open the door and tell them 'Thank you' and they'll wave or come up and knock on the door to tell us, 'Thank you,'" Salisbury said. "They've also left notes. We had a note this year that said, 'Needed a hat, thanks.'"
"My heart overflows. It makes me feel blessed, which is where the name came from," Salisbury added. "The giver is as blessed as the receiver. It's very overwhelming. I don't take this as something I've done. I really believe it's something God has given me to spread his love and his blessing from our community to our community."
Copyright © 2017, ABC Radio. All rights reserved.