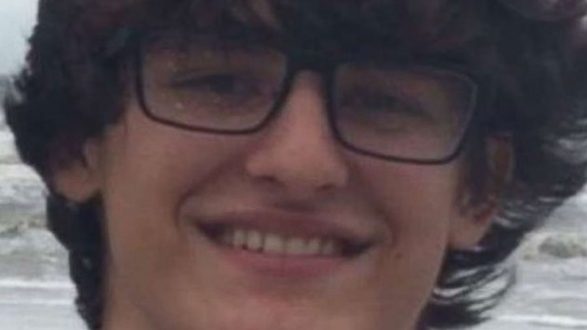 Jacksonville Sheriff's Office(JACKSONVILLE, Fla.) — An "armed and dangerous" Florida teen reported missing earlier this week and wanted in connection with the death of his grandmother was detained Friday by U.S. Customs and Border Patrol trying to enter Canada near Buffalo, New York, the Jacksonville Sheriff's Office announced Friday night.
Law enforcement officials named Logan Mott, 15, a "person of interest" in the death of his grandmother, Kristina French, 53, after police found on Friday afternoon what they believe is the body of French in a shallow grave in the backyard of her son Eric Mott's home in Neptune Beach, where the younger Mott also lives.
The Jacksonville Sheriff's Office announced his capture Friday night, tweeting, "Logan Mott has been detained by U.S. Customs and Border Protection as he tried to enter Canada from the Buffalo, NY area. A big thank you to everyone for sharing and helping us get #LoganMott detained quickly. The investigation is ongoing." Police said he cut his hair short in an attempt to alter his appearance.
It is unclear when Logan Mott will return to Florida or if he has a lawyer.
Following her son's capture, Carrie Campbell-Mott said in a statement to ABC News, "We are relieved he is safe and in custody, and we just ask for everyone to give us time to sort out what happened. That, no matter what, Logan is our child and we love him and are standing by him to help in any way. We want to find out what happened to Kristina, and we need time for that to happen."
Both the teen and his grandmother had been reported missing since Wednesday, when Eric Mott returned home from vacation to find his son and mother both missing, and their home ransacked, police said.
The father, a veteran's corrections officer with the Jacksonville Sheriff's Office, also said several guns were missing from the home, ABC affiliate WJXX-TV reported.
Police found signs of foul play, and French's silver Dodge Dart was missing, which led to Logan Mott also being wanted on an auto theft charge.
The body found in the shallow grace matches French's description, police said, but they are waiting for the autopsy before formally confirming it is her.
On Friday, the Jacksonsville Sheriff's Office said they had surveillance footage of someone matching Logan Mott's description, warning in a tweet that "he is considered armed and dangerous."
Copyright © 2017, ABC Radio. All rights reserved.