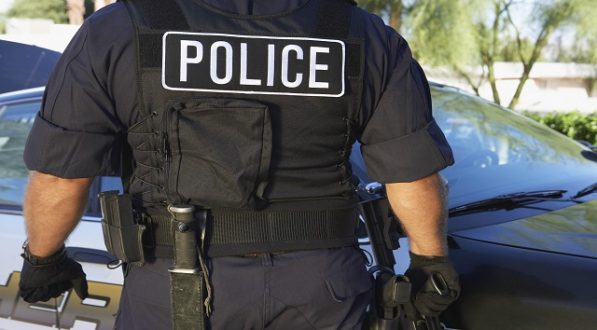 iStock/Thinkstock(TAMPA, Fla.) — Cellphone information and shell casings place suspect Howell Donaldson III at the scenes of a string of recent killings in Tampa, Florida, according to a police affidavit filed a day after his Tuesday arrest.
Donaldson, also known as Trai, was arrested Tuesday afternoon at a McDonald's in Ybor City, Florida. He will be charged with four counts of first-degree murder for a string of killings over the past six weeks in Tampa's Seminole Heights neighborhood, police said.
A person identified as "Witness 3" in a police affidavit told authorities Donaldson walked into the McDonald's Tuesday afternoon at about 2:45 p.m. ET, handed them a bag with a loaded .40-caliber Glock firearm inside and said he planned to leave the state.
Donaldson allegedly had purchased the firearm six days before the first killing on October 9, and picked up the handgun and a 20-round box of SIG brand Smith and Wesson ammunition October 7, police said.
The Florida Department of Law Enforcement and the Bureau of Alcohol, Tobacco, Firearms and Explosives (ATF) cartridge casings found at all four crime scenes matched the .40-caliber Glock firearm possessed by the suspect, according to an analysis by the Florida Department of Law Enforcement and the Bureau of Alcohol, Tobacco, Firearms and Explosives (ATF).
Police said call detail records were also obtained and showed that Donaldson's cellphone was geographically associated with a cell tower near the locations of the first three slayings in the Seminole Heights neighborhood within minutes of them happening.
The first three victims were killed within 11 days in October. Benjamin Mitchell, 22, was killed October 9 and then the body of 32-year-old Monica Hoffa was found Oct. 13, half a mile from where Mitchell was killed. Anthony Naiboa, a 20-year-old man authorities described as having "mild autism," was killed October 19 after taking the wrong bus home from work, according to police.
The fourth victim, 60-year-old Robert Felton, was shot to death from behind in the Seminole Heights neighborhood in the early-morning hours of November 14.
The Tampa Police Department received more than 5,000 tips related to the string of mysterious murders, but it was one they received Tuesday that ultimately led to Donaldson's arrest.
"Somebody had the intestinal fortitude to step up and give us the bit of information that we needed and bring this to a halt," Tampa Police Chief Brian Dugan said in an interview today on ABC News' "Good Morning America."
"You know, it's been 51 days since the first murder and it's day one of the healing process to kind of help these families and this community put their lives back together," he continued.
Donaldson, 24, was a graduate of St. John's University in New York City, but a Tampa native. The New York City Police Department confirmed to ABC News that Donaldson had one prior arrest in Manhattan in 2014, but the case is sealed.
Chief Dugan said he personally spoke to Donaldson briefly after police interviews Tuesday night and the man was "pretty nonresponsive." Donaldson has not admitted to committing the killings but told police he is the owner of the .40-caliber Glock firearm, according to the Tampa police chief.
"He wasn't angry; it was a very subdued strange behavior, in my opinion," Dugan said.
Police said they are unsure of a motive behind the four killings, and do not yet know of a connection between the alleged killer and the Seminole Heights neighborhood where the slayings took place. Police do not believe there are any other suspects.
"We have so many still-unanswered questions," Dugan said.
Nevertheless, Tampa Mayor Bob Buckhorn told ABC News that residents in the Seminole Heights neighborhood traumatized by the recent killings "can rest comfortably" now that the suspected serial killer has been arrested.
"This was a good night last night, thanks to the work of the Tampa Police department and all of our partners and chief Dugan," Buckhorn said in an interview Wednesday on "GMA."
"The folks in Seminole Heights, we think, can rest comfortably that this individual is in custody and now the process starts moving forward. But it's a good day in Tampa."
In a statement released late Tuesday, Florida Gov. Rick Scott commended the "relentless effort" of the Tampa police, who worked through the Thanksgiving weekend on the case.
"As a father and a grandfather, it is unimaginable what the families of these victims are going through," Scott said. "Our thoughts and prayers remain with them, and we will work to ensure that they receive the justice they deserve. In Florida, we have absolutely zero tolerance for this type of evil behavior and anyone responsible will be held to the fullest extent of the law."
Copyright © 2017, ABC Radio. All rights reserved.