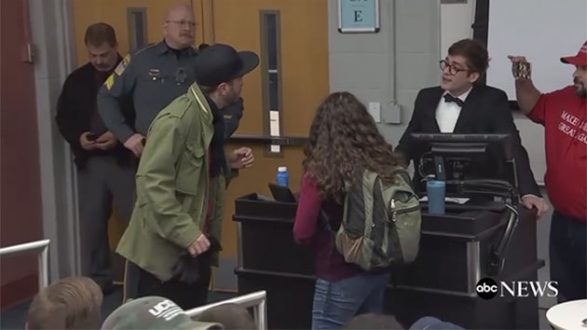 ABCNews.com(NEW YORK) — A conservative commentator was arrested at the University of Connecticut's "It's OK to be White" event on Tuesday after a fight broke out between him and an audience member, according to the university.
Lucian Wintrich's speech ended abruptly at around 9 p.m Tuesday when a female audience member removed paperwork from the podium where he was speaking and walked away, eyewitness video showed.
The event quickly descended into chaos as Wintrich, a White House correspondent for the right-wing blog Gateway Pundit, began to chase the woman in an apparent attempt to retrieve the paper.
Separately, the UConn College Republicans student group, which sponsored the event, claimed that fellow students had taken down or modified posters promoting the event "because they disagree with free speech and individualism," according to the group's Facebook page.
UConn said it was not a sponsor of the event.
"UConn police are also investigating an incident in which someone broke a window in the lecture hall as the crowd was leaving and threw a smoke bomb inside," Stephanie Reitz, a UConn spokeswoman, said in a statement. "This led to speculation as to whether police had discharged tear gas, but that was not accurate. No tear gas was used or needed."
"It's really unfortunate that some of the kids at @UConn felt the need to be violent and disruptive during a speech that focused on how the leftist media is turning Americans against each other," Wintrich said in a tweet after the event. "Tonight proved my point."
"Apparently, 'Peace' is anything far left students don't agree with. SAD! Plenty of great young conservatives in the audience – disappointed that the left wouldn't let this happen as planned," he added in a subsequent tweet.