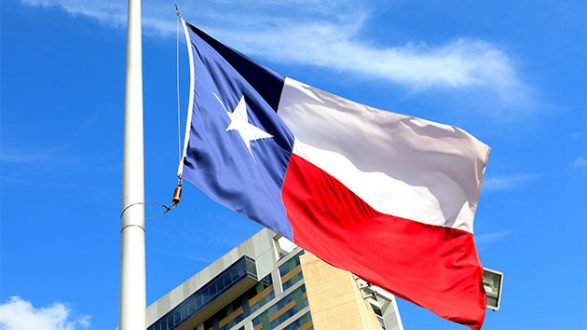 Raymond Boyd/Getty Images(DALLAS) — Newly released dashcam video shows the suspect in last week's murder of a Texas trooper brutally assaulting a Smith County deputy in 2015.
The confrontation between Dabrett Black and Smith County Deputy Rigele Dean occurred in March 2015 after Dean spotted Black walking on the side of the road while he was en route to a domestic assault call, according to Dallas ABC affiliate WFAA.
In a statement taken by Smith County officials, Dean said that he initially passed by Black and turned around because he though Black was trying to flag him down. When he exited the squad car and asked for identification, Black refused and Dean decided to detain him. Black resisted the arrest and hit the officer in the face.
Black was arrested and charged with murder in the death of Texas Department of Public Safety officer Damon Allen on Thanksgiving following a routine traffic stop. Allen was allegedly shot with a rifle when walking back to his cruiser after speaking to Black, police said.
Dashcam video of the 2015 incident shows Black knocking Dean to the ground, sitting on top of him and repeatedly hitting him across the face. Dean said that when he attempted to pull his weapon from his holster, Black tried to pull it from his hands, saying, "You ain't gonna shoot me motherf—–."
Black's mother, who witnessed the entire encounter, is seen in the video trying to separate her son from the officer. Dean sustained two black eyes, six stitches and a broken nose in the attack.
On the dashcam video, Black can be seen talking to himself about his military service and his beliefs that cops are targeting and killing innocent minorities.
Black can be heard on camera saying, "Somebody supposed to be scared because you got a badge and a gun? I showed you that your badge and gun ain't s—. … Just imagine if I had some weapons, do you understand that?"
Black agreed to a plea deal in the case, dropping the charge from a felony to a misdemeanor and served just one year in prison, according to court records. Smith County prosecutor Jacob Putnam also dropped a felony charge alleging that Black tried to take away the deputy's gun. Putnam did not receive authorization from the District Attorney's office to cut this plea deal with Black, according to WFAA.
In the months following his release, several emails were sent to Smith County officials by Black's probation officers detailing their concerns about Black's mental stability and fear of future attempts at retaliation against law enforcement officers, WFAA reported.
One official wrote, "In my opinion, this is the kind of guy who will lurk in the shadows and try to ambush someone. … I am not trying to scare anyone and I am not being paranoid. I just think the guy has some kind of agenda and I'm noremovet exactly sure what it is."
Dean's mother posted on Facebook that she believed Allen was dead "because this criminal was not locked up for prior crimes," according to WFAA.
Black is currently being held in Freestone County jail on a murder charge.
Copyright © 2017, ABC Radio. All rights reserved.