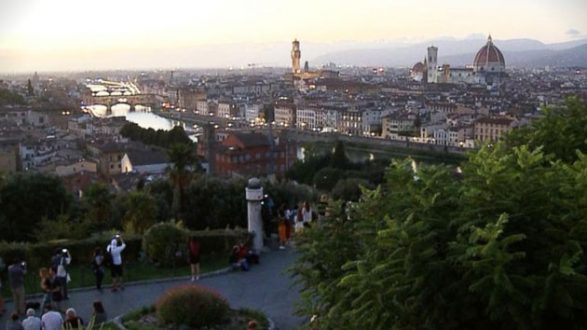 ABC News(NEW YORK) — An American student who accused an Italian police officer of sexual assault says she recalls thinking "this is going to be the worst moment of my life" during the alleged encounter, but said she has faith "justice" will prevail in the ongoing trial that has drawn international attention.
"It was supposed to be one of the best times of my life," the woman, who spoke out in an exclusive interview with ABC News' Amy Robach on the condition that her name not be used, said of her time studying abroad in Florence this fall.
American student allegedly raped by Italian police officer tells her story on late-night TV show
The student said that the encounter occurred after she went to a night club with a group of friends. In the early hours of the morning, she said she and a friend tried to call a taxi, when she says two Italian police officers offered to drive them home instead.
"What's more safe than getting in the back of a police car?" the woman told ABC News.
She added that while there were no drugs involved that night, she and her friend had been drinking. "Not … excessively," she added. "But we were drinking."
She told ABC News that she thought the two members of Italy's Carabinieri police force, Marco Camuffo and Pietro Costa, could tell that she and her friend were intoxicated.
"They could definitely tell that my friend was more intoxicated than I was," she said. "She kind of showed it a lot more than I did."
During the ride home, she said they engaged in little conversation due to the language barrier, and that when they arrived at the destination, the officers followed them to the front door.
"I didn't think it was that strange, because my friend … she couldn't really stand by herself, she needed assistance," the student recalled. "So the one officer was like, 'Oh, we'll help you, we'll help you.'"
"We got to my elevator door, and the elevator only fits about two people," she said, adding that her friend and Costa took the elevator while she and Camuffo took the stairs.
When she arrived on the third floor, right in front of her apartment door, she says that Camuffo began to sexually assault her.
"He moved me over to the windowsill, and then assaulted me there. And I was terrified, I mean, he had a gun," she said. "He is a trained military police officer, what do you do in that moment?
"I was crying," she added. "I couldn't scream, there was nothing coming out of my mouth at that point. I was so scared."
"I had said 'No,' and he put me up against the wall, and he started pulling at my clothes, and I kept pulling them back up and everything," she recalled. "That was probably when I was, like, the most scared."
She added that at that moment she began to fear for the worst.
"I knew that … it was going downhill from there, and he's taller than me, bigger than me," she added. "And then that's when I was, like, 'Oh my God, this is going to be the worst moment of my life.'"
She said that during the encounter, she "didn't know what he was saying."
"He didn't speak any English," she said. "So that was even worse … I mean, 'No,' is universal."
Eventually, she said the elevator doors opened and she saw a chance to escape. She grabbed her friend, who she says was bloodied, and dragged her into the apartment.
Cristina Menichetti, an attorney representing Camuffo, told ABC News that the victim's story does not match what her client has said.
The police officers have been suspended from the force, but both claimed that any sex that night was consensual.
In November, the two American women and the Italian officers testified at a pre-trial hearing that made international headlines.
The student told ABC News that she was not surprised by the media attention that the case was receiving, but added she was "more surprised that in the beginning … no one believed that it even happened."
"People were like, 'Oh, that's just a drunk American girl, she drank too much," she said.
Sandra Paterno, an attorney for the young woman, told ABC News that the testimony of the other officer, Costa, proves that the encounter between her client and Camuffo was not consensual.
"This is from the deposition … before the public prosecutor of … Pietro Costa (PH), the younger Carabinieri," she told ABC News. "He says … 'I have see … I saw Camufo, the other guy, that tried to lower the pants of the girl and she was … with some resistance, she said, 'No, no.'"
The alleged victim told ABC News that hearing the other officer's testimony was "heartbreaking."
"To read that the other officer saw me saying no, and didn't step in … I feel like that's a crime itself, the fact that you knew that I didn't want to and you proceeded anyway?" she told ABC News. "So that was even more heartbreaking."
Paterno said they are hoping that Camuffo gets "10 years in jail."
"That's the maximum … penalty that they can have," she added.
The student said that despite everything that she says happened at the hands of authorities in Italy, she has faith in the judicial system.
"I think the evidence is overwhelming," she added. "I think that justice is going to prevail, and they're going to go to jail."
Copyright © 2017, ABC Radio. All rights reserved.