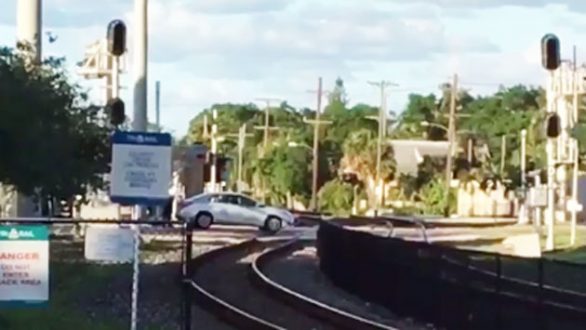 Twitter/@carlosperea92(WEST PALM BEACH, Fla.) — A commuter train hit a car sitting partially on the tracks in West Palm Beach, Florida on Friday afternoon, according to authorities and a video posted online of the incident.
West Palm Beach police said there were no injuries.
Bystander Carlos Perea, who shot video of the incident, tweeted that a bystander pulled the driver out of the car seconds before the train hit the vehicle.
Representatives of the commuter line, Tri-Rail, told ABC affiliate WPLG in Miami that the train was traveling at 8 mph when it hit the car.
In the video the train honks its horn several time before hitting the parked car. The car is then thrust off the track with its tires screeching.
WPLG reports it is unknown why the car was on the tracks.
Copyright © 2017, ABC Radio. All rights reserved.