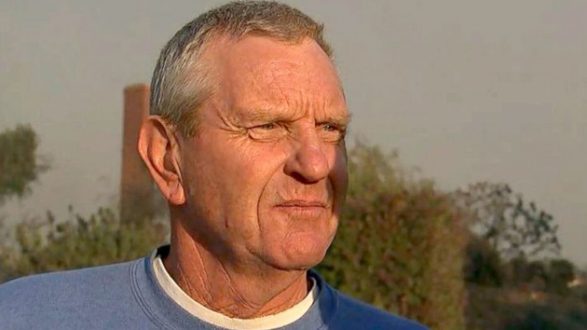 KABC-TV(VENTURA, Calif.) — It was 11:00 p.m. when firefighters knocked on the front door of Jim McConica's Ventura, California, home to warn of an approaching blaze.
"They told us to get out so we gathered what we could and put it into my pickup truck as fast as we could," McConica, 66, told ABC News.
He said he and wife had less than 30 minutes to grab whatever they could. "If we had stayed any longer, we would have been in serious trouble," McConica said.
McConica made sure to grab a couple of swimming medals from his days as a dominant, Hall of Fame swimmer, but some of his most cherished were left behind.
"I got a few of them but I missed the ones from the Pan American Games, the one from the world record," he said. At the 1971 Pan American Games, McConica won a world record medal in the 4×200-meter freestyle relay race.
It was a medal he said he earned with his fellow swimmers who prospered despite being stricken with illness.
"I was one of four guys who set the world record and we all sick with dysentery," he said.
After he dropped off his wife at his mother's house a few miles away, McConica returned a few hours later to check out the damage.
The fire had spread so fast and wide that McConica was forced to abandon his truck and scale the hill to his home on foot. But their home was no longer standing.
"I went back up the hill at sun-up, and it and all the others on our street were completely engulfed," he said.
McConica said he lost everything. "I stood right next to it and the only thing left is a rod iron fence," he said. "It's entirely gone."
The rubble that McConica and his wife are left with caused him to be "knocked down in shock."
"I bought this house with the intention of dying in this house and unfortunately the house died before I did," he said. "It's just a real tough situation."
Still, despite the wreckage, McConica said he is already committed to rebuilding. "I'm dealing with building a house again on my dirt," he said.
Copyright © 2017, ABC Radio. All rights reserved.