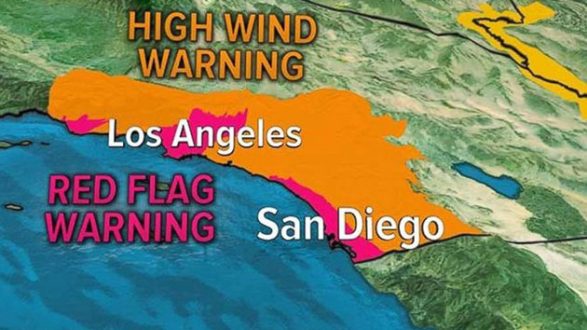 ABC News(LOS ANGELES) — The weather in Southern California continues to wreak havoc on fire officials trying to stymie the growing flames.
On Tuesday, winds gusted to 80 mph in parts of Southern California, producing a major Santa Ana wind event. This could be the worst Santa Ana wind event in December in Southern California since 2002.
There are red-flag warnings and high-wind warnings from Ventura to Los Angeles to San Diego and all the way to the Mexican border.
Gusty winds are in the forecast for Southern California on Wednesday, but they won't be as strong as they were on Tuesday. Some gusts near 30 mph are possible on Wednesday.
Another major Santa Ana wind event is forecast for Thursday, when winds could gust as high as 70 mph in the mountains.

Cold and snow head east
Cold air is moving into the Great Lakes and the Northeast on Wednesday morning, and as that happens, heavy lake-effect snow is currently falling.
It will be very cold in the eastern U.S. on Thursday morning, with wind chills below zero in the Midwest, and in the teens and 20s in the Northeast.
Lake-effect snow is ongoing Wednesday morning, and we have winter-storm warnings and lake-effect snow warnings from Wisconsin to New York. There will also be gusty winds in part of New England near 40 mph.
Some areas near the Great Lakes — from Michigan to western New York — could see more than a foot of lake-effect snow.
Copyright © 2017, ABC Radio. All rights reserved.