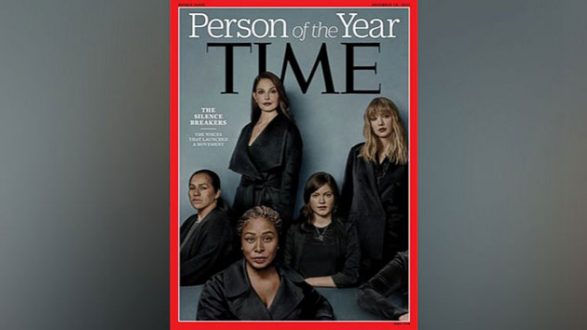 TIME(NEW YORK) — TIME magazine's "Person of the Year" this year isn't a single individual at all. It's thousands of people.
"The Silence Breakers" is what TIME is dubbing the women and men who are speaking out against sexual harassment and assault after years of suffering in silence or of being ignored.
"The women and men who have broken their silence span all races, all income classes, all occupations and virtually all corners of the globe," TIME wrote. "They might labor in California fields, or behind the front desk at New York City's regal Plaza Hotel, or in the European Parliament. They're part of a movement that has no formal name. But now they have a voice."
Many of the people included in the magazine's feature article are familiar famous faces — actresses Ashley Judd and Rose McGowan, singer Taylor Swift — while others are non-celebrities, some of whom chose to remain anonymous as they spoke to the magazine, though their stories of sexual harassment, assault and threats of retaliation are as familiar and disturbing as those told by their celebrated counterparts.
As TIME wrote: "What separated them was less important than what brought them together: a shared experience."
Also on Wednesday morning, Twitter acknowledged TIME's selection and followed up with their own tweet about the #MeToo movement, in which people who have experienced sexual harassment or assault are encouraged to tweet the hashtag. According to Twitter, the hashtag has accounted for more than 3 million tweets since its inception just two months ago.
President Donald Trump was TIME magazine's "Person of the Year" last year and runner-up this year, while Chinese President Xi Jinping was third on the list.
Copyright © 2017, ABC Radio. All rights reserved.