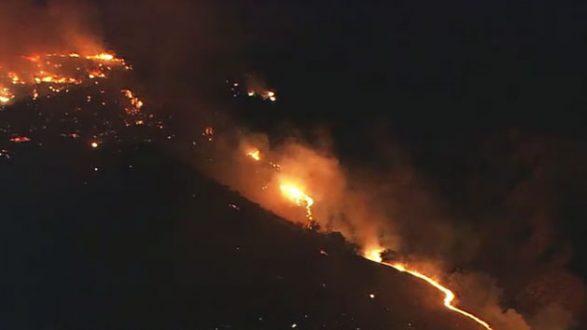 ABC News(NEW YORK) — A very chilly air mass is in place for most of the country Thursday, even all the way to the Deep South.
Wind chills are dipping into the single digits in the Midwest and the 20s and 30s in the East.
Snow is developing in unusually far southern areas of the U.S. on Thursday night, from just north of New Orleans to Atlanta and into Raleigh, North Carolina. Some areas could see more than 1 inch of snow. A winter weather advisory has been issued for the Deep South.
Also, heavy lake effect snow is possible from Michigan to New York. Numerous winter storm warnings, winter weather advisories and lake effect snow warnings have been issued for the region.
Some areas in western New York just south of Buffalo could see up to 20 inches of snow over the next 24 hours.
Santa Ana wind trouble

December is known to be the most common month for Santa Ana winds in southern California, but fires of the magnitude currently being seen are not that common in December.
The prime time for wildfires in California is June through October.
Winds continue to pick up Thursday morning, and are forecast to gust 30 to 50 mph along the coast and near 80 mph in the mountains.
Red flag warnings continue through Saturday for Southern California and high wind warnings continue through Friday.
Wind gusts today in the mountains could be 80 to 90 mph.
Gusty winds continue even into Saturday, with gusts reaching 20 to 30 mph along the coast and nearly 60 mph inland.
Copyright © 2017, ABC Radio. All rights reserved.