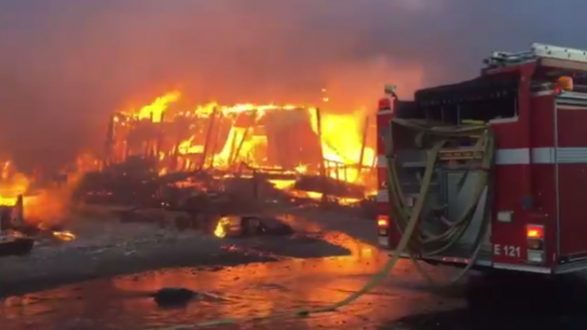 Gina Ferazzi / Los Angeles Times (SAN FRANCISCO) — One California family has lost two homes within two months to devastating wildfires across the state.
Antonio and Pratima Wong, along with their 19-year-old son, were among thousands of people forced to evacuate their homes in Northern California two months ago when deadly wildfires erupted in Sonoma County. The family's house in Santa Rosa's Fountain Grove neighborhood burned to the ground, according to ABC station KGO-TV in San Francisco.
"It's hard to see the front view where you just see the stairs going up to nothing," Antonio Wong said in a recent interview with KGO-TV.
The Wongs moved to Santa Rosa from Southern California just six months ago. They decided to rent out their house in Ventura rather than sell it, thinking perhaps they'd return someday.
But on Tuesday, that house burned down in a massive wildfire that has rapidly engulfed 148,000 acres of land in Ventura County this week.
"It was surreal, more like numb you know. Did this really happen to us?" Pratima Wong told KGO-TV, through tears. "For the second time, it's a lot harder."
The so-called Thomas fire in Ventura County has destroyed at least 537 structures and damaged another 118, according to the California Department of Forestry and Fire Protection. An additional 15,000 structures remain threatened by the flames, which continued to burn Saturday and are expected to intensify because of increasing winds.
The Wongs are now trying to determine whether they can afford to rebuild either house, after realizing they were under-insured in both places.
"That's the first thing I thought of when the Ventura fire happened, 'Oh my God, I haven't increased my insurance down there,'" Antonio Wong told KGO-TV.
"The road to recovery is long," Pratima Wong added. "It might be hard, but we'll get there."
Copyright © 2017, ABC Radio. All rights reserved.