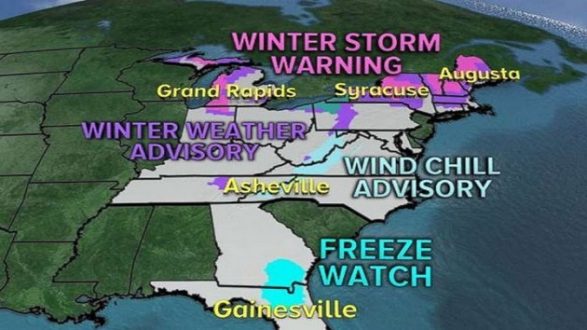 ABC News(NEW YORK) — Unsettled and cold weather is forecast for the Great Lakes and the Northeast through the rest of the week with several rounds of snow.
A general 1 to 3 inches of snow fell in the Midwest and the Great Lakes from the Alberta Clipper system that moved through the area. Locally, more than 6 inches of snow fell due to the lake effect.
Behind the storm system is the coldest air of the season for the East Coast of the U.S.
Winter weather alerts are in place from Florida to Maine.
The storm system is moving into the Northeast on Tuesday morning with snow and rain. Most of the major cities on the I-95 corridor should just see some rain.
By Wednesday, the first clipper system exits the Northeast, but on its heels a new storm system will develop and approach the Great Lakes with more snow.
By Thursday morning, this new system will move into the mid-Atlantic states and could bring some snow from West Virginia to Maryland and into Pennsylvania, New Jersey and maybe even New York City and Long Island. ABC News meteorologists are not expecting much snow with this second system, but a dusting to 1 inch of snow is possible.
Over the next few days some areas from Michigan to western New York and New England could see up to 1 foot of snow.
In addition to the snow, the coldest air of the season is forecast Tuesday in the Great Lakes from Chicago to Detroit. This afternoon, wind chills will struggle to get above zero for the Great Lakes.
This cold blast moves into the Northeast Tuesday night into Wednesday with winds chills in the single digits and teens from Washington, D.C. to Boston.
Extreme dry weather
Extremely dry conditions and some gusty winds in Southern California has led the National Weather Service to extend the red flag warning for Ventura and Los Angeles counties through Wednesday.
The relative humidity could be lower than 5 percent in some areas.
Generally, dry offshore flow will continue for Southern California through Wednesday. Winds will not be as gusty as they were last week, but we cannot rule out a few gusts near 30 mph at times.
Copyright © 2017, ABC Radio. All rights reserved.