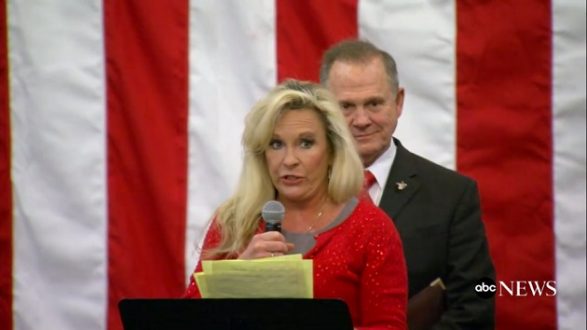 ABC News(MONTGOMERY, Ala.) — Kayla Moore, the wife of Alabama Senate GOP candidate Roy Moore, refuted accusations that her husband holds anti-Semitic views and accused the media of slandering him.
"The fake news –- they paint him a different picture, their picture. So let me tell him who he is," Kayla Moore said while introducing her husband at a campaign rally in Midland City, Alabama Monday night.
Moore then launched into a defense of her husband's character, arguing that he doesn't hold any negative views of Jewish people, women or African Americans.
"Fake news would tell you that we don't care for Jews," Kayla Moore said. "I tell you all this because I've seen it all so I just want to set the record straight while they're here."
"One of our attorneys is a Jew," Kayla Moore added. "We have very close friends that are Jewish and rabbis and we also fellowship with them."
Moore also told the crowd that they "have many friends that are black and we also fellowship with them in church and in our home."
Republican candidate Roy Moore faces off against Democratic candidate Doug Jones in the Alabama special election today to fill Attorney General Jeff Sessions' vacant U.S. Senate seat.
Kayla Moore seemed to be responding to the criticism against Roy Moore's comments about billionaire philanthropist George Soros, who is Jewish and a Holocaust survivor.
In an interview with a Christian broadcasting radio network, Roy Moore had suggested that Soros, a major Democratic donor, would be going to hell for his religious beliefs. Moore had accused Soros of funding the eight women who have made sexual misconduct allegations against Moore.
"No matter how much money he's got, [Soros is] still going to the same place that people who don't recognize God and morality and accept his salvation are going. And that's not a good place," Roy Moore said in an interview last Monday with American Family Radio.
Copyright © 2017, ABC Radio. All rights reserved.