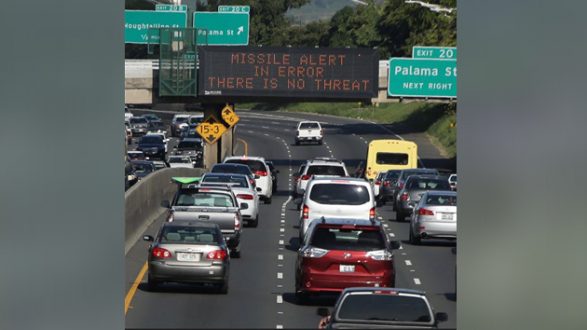 Anthony Quintano / Honolulu Civil Beat(HONOLULU) — John Aaron and his wife woke up on their honeymoon in Hawaii on Saturday morning to a startling alert: A ballistic missile attack was imminent.
The emergency alert was blasted over the hotel's public address system and sent to people's mobile phones across Hawaii just after 8 a.m. local time. The message that appeared on phones read in all caps, "Ballistic missile threat inbound to Hawaii. Seek immediate shelter. This is not a drill."
Aaron and his wife immediately grabbed their belongings and left their hotel room in picturesque Maui in search for a safe place. Everyone else around them was doing the same.
"A very chaotic and nerve-wracking scene," said Aaron, a reporter for ABC Radio affiliate WTOP in Washington, D.C. "Some people were crying, a lot of people were frantic."
The newlyweds eventually took shelter in a hotel supply room, where they waited to receive more information.
Hawaii resident Rachel Uda Murdock said her family was "scared to death."
In a video Murdock posted to Facebook, she said her family flew out of bed after receiving the alert but didn't know what to do.
They started getting duct tape to seal windows and filling bathtubs with water, she said.
Then they found out the warning of an incoming missile was a mistake.
"I think someone just accidentally sent it and scared the whole island of Hawaii," Murdock said.
The alert also rattled Hawaii residents Diane Cluxton and her husband, who were grocery shopping together on the Big Island when they received the emergency alert.
"My husband got it at the same time and then all of a sudden you heard all these "What?" throughout the store, because everybody was receiving it all at the same time," Cluxton told ABC News. "One person actually sought shelter in a doorway waiting for some other notification, so it definitely looked like everybody received the alert."
Correction messages were later sent out to mobile phones and read on PA systems in Hawaii. Television broadcast the correction via a scrolling red banner that read in part, "There is no missile threat or danger to the State of Hawaii."
A spokesman for the U.S. Pacific Command, Dave Benham, told ABC News in a statement that no ballistic missile threat to Hawaii was detected.
"Earlier message was sent in error. State of Hawaii will send out a correction message as soon as possible," Benham said.
Players on the PGA tour in in Honolulu for the Sony Open were rattled by the false alert, PGAtour.com reported on its website. Golfer John Peterson tweeted: "Under mattresses in the bathtub with my wife, baby and in laws. Please lord let this bomb threat not be real." After the all-clear, he followed up with: "Man. How do you press the wrong button like that. COME ON MAN"
A woman whose home has a bomb shelter built after the attack on Pearl Harbor, bundled her children and the family dog into the underground bunker, ABC affiliate KITV reported.
Paraluman Stice-Durkin said she thought the threat was "totally real" since it came over the emergency response system and she had the.
"I went into mama-bear mode, my husband is out of town so I just knew that we had a safe space under the house so I started opening up the hatch, throwing water, throwing blankets, throwing everything down there, getting the dog down there, really panicked, really scared," Stice-Durkin told KITV. "I'm surprised I didn't cry but I was definitely in marching order mode so that's the mama-bear, keeping everybody calm but I'll probably cry tonight."
For Aaron, the false alarm felt all too real with tensions sky-high between the United States and North Korea, which conducted over a dozen ballistic missile tests in the past year.
The latest was Nov. 29, when North Korea said it launched a new, nuclear-capable weapon that could allegedly reach the entire continental United States. North Korean state television said the new intercontinental ballistic missile, which it called a Hwasong 15, was "significantly more" powerful than the previous long-range ICBM the country had tested.
"The possibility of a missile being inbound to Hawaii, presumably from North Korea — although no one said that — that possibility did not seem that ridiculous at the moment," Aaron told ABC News.
Copyright © 2018, ABC Radio. All rights reserved.