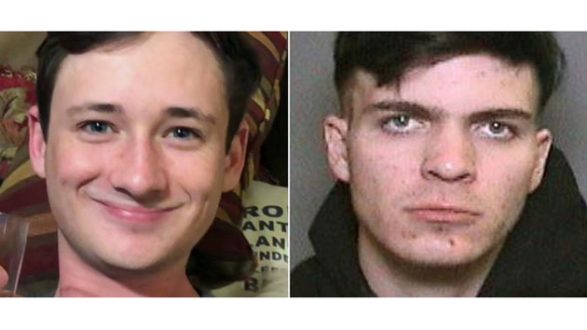 Orange County Sheriff's Department (LOS ANGELES) — A man has been charged with murder for allegedly stabbing to death University of Pennsylvania student Blaze Bernstein, the Orange County District Attorney's office announced Wednesday.
Blaze Bernstein, 19, was at home in Southern California for winter break when he went missing on Jan. 2. After an extensive search, his body was found on Jan. 9 in the brush surrounding Borrego Park in Foothill Ranch, the Orange County Sheriff's Department said.
Samuel Woodward — Bernstein's former classmate at the Orange County School of the Arts — was arrested on Jan. 12 on suspicion of homicide.
Woodward, 20, allegedly picked up Bernstein from his home the night he went missing, the district attorney's office said.
Woodward — who is 50 pounds heavier than Bernstein — is accused of stabbing him to death and burying his body in the dirt in the perimeter of the park, the district attorney's office said.
The exact time and place of the murder is under investigation, prosecutors said, adding that a motive has not been determined.
Prosecutors accuse Woodward of visiting the crime scene days after the murder. They also say Woodward cleaned up the car he used to pick up the Ivy League student.
Prosecutors allege Woodward later gave authorities a "false explanation" about abrasions on his arms and dirt on his hands. According to a search warrant affidavit that was obtained by The Orange County Register and later sealed, Woodward allegedly told investigators the abrasions on him were from a "fight club," the affidavit said.
According to the affidavit, Woodward allegedly told investigators that that night at the park. Bernstein left the car and walked off.
In the affidavit, Woodward said he waited for an hour for Bernstein to return to the car and then tried to reach him on Snapchat. When that failed, he said he went to his girlfriend's house and then returned to the park a few hours later to look for Bernstein.
Police said, according to the affidavit, during their questioning, Woodward couldn't remember his girlfriend's last name or where she lived.
Orange County District Attorney Tony Rackauckas said prosecutors have not ruled out the possibility of hate crime charges, though he did elaborate.
"We are continuing to investigate, looking through all matters of the communication," he said today. "We have an obligation to file charges only if there's sufficient evidence to prove beyond a reasonable doubt. A hate crime of special circumstance allegation requires that level of proof … if and when we find it, we will amend the charges."
Rackauckas said today the family is "very distraught."
"This was a treasured young man," he said.
The Ivy League student's mother, Jeanne Pepper Bernstein, tweeted after the arrest, "Revenge is empty. It will never bring back my son."
"My only hopes are that he will never have the opportunity to hurt anyone else again and that something meaningful can come from the senseless act of Blaze's murder," she said.
Bernstein's parents later said in a statement, "We are heartbroken."
"When we stop crying we will start doing positive things to affect change," they said. "We ask that everyone work toward something good. Stop being complacent. Do something now.
"In the months to come, as part of our healing process, we too will act to heal the world. That is what Blaze would want," the Bernsteins said. "We still believe that people are good. We have seen this first hand in the tremendous amount of support we received from people everywhere."
Woodward, charged with murder, is set to appear at a bail hearing Wednesday. If convicted, the maximum sentence is 26 years to life in state prison.
Copyright © 2018, ABC Radio. All rights reserved.