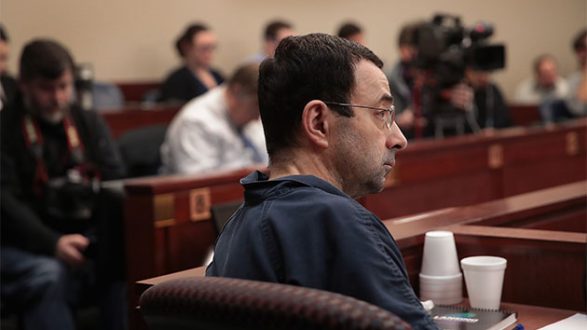 Scott Olson/Getty Images(NEW YORK) — Nearly 14 years after she reported being sexually assaulted by former Olympic team doctor Larry Nassar, Brianne Randall-Gay heard words she thought she would never hear from the authorities who took his word over her's and caused her to be consumed by self-doubt and emotional turmoil.
"I want to first start with the most important reason we're here and that's to apologize on behalf of the community and the police department," an emotional Frank Walsh, the manager of Meridian Township, Michigan, told Randall-Day during a news conference on Thursday. "We failed you. We let you down."
Randall-Gay went to the Meridian Township Police Department in 2004 and told them that Nassar had sexually abused her. She even submitted to a rape kit.
But the officer who took her report did not pass it on to prosecutors to consider charges, officials said. Instead, he believed Nassar's over the victim when the doctor told him that the then 17-year-old girl had mistaken his medical procedures for deviant behavior.
"We were deceived. We wish we had this one back," Police Chief Dave Hall, told Randall-Gay.
Hall added: "I think I could apologize everyday for the rest of my life."
Randall-Gay, now a 30-year-old married mother, listened to the apologies via Skype video connection from her home in Seattle. The outpouring of public regret came after Hall and Walsh first privately apologized to her in a phone call on Jan. 19.
"I immediately broke down as they apologized," Randall-Gay said of the phone call she got from the Meridian Township officials. "This was a phone call I had been waiting almost 14 years for."
Last week, Randall-Gay faced Nassar in Ingham County Circuit Court and gave a victim statement along with 155 other women and girls — including Olympic gymnastic stars Aly Raisman, McKayla Maroney, Jordyne Weiber and Jamie Dantzcher — who say they were sexually abused by the former doctor.
"You had the audacity to tell [police] I misunderstood the treatment because I was not comfortable with my body," Randall-Gay told Nassar. "Sadly, they took your word instead of mine."
Following the seven-day hearing, Judge Rosemarie Aquilina sentenced Nassar, 54 — who pleaded guilty to multiple counts of felony sexual misconduct — to 40 to 175 years in prison. The punishment was on top of 60 years he was given after pleading guilty in December to federal charges of possessing child pornography.
Prosecutors have asked a judge in Eaton County, Michigan, to give Nassar an additional 40 to 125 years in prison for multiple counts of sexual misconduct he pleaded guilty to there. On Wednesday, the first group of the 65 victims started giving impact statements, which are expected to continue next week.
During the emotional news conference Thursday, Hall and Walsh promised Randall-Gay they will adopt a series of initiatives and department training so that no other victim of sexual assault will feel their complaints are disregarded.
"When I reported my abuse to Meridian Township in 2004, I was disappointed that there were no charges," Randall-Gay said on Thursday. "I felt my complaint was ignored. I felt like I was ignored."
After being told Nassar's treatments were "legitimate medical procedures," she said, "this caused me to question myself. For over a decade I struggled."
She said it wasn't until 2016 when the Indianapolis Star newspaper reported Nassar, who was also a former sports medicine doctor at Michigan State University, had been abusing young girls for years and prosecutors launched an investigation of the physician, that she realized she was finally going to be vindicated.
"This has been a difficult 16 months as I have had to process the abuse I suffered at the hands of Larry Nassar and to realize the breadth of his abuse on so many young women and children," Randall-Gay said.
Walsh, who became Meridian Township's manager in 2013, said he wasn't informed of Randall-Gay's complaint until Michigan State University Police contacted him on Sept. 16, 2016. He said township officials were barred by prosecutors, including the state Attorney General's Office, from publicly releasing the complaint Randall-Gay filed until Nassar was sentenced in Ingham County.
The complaint was finally made public on Wednesday.
Walsh said they decided to call Randall-Gay before the report was released. He said she took them up on their offer to pay for her to travel to Michigan when she decided at the last minute to face Nassar in court.
He choked back tears when he recalled listening to Randall-Gay confront Nassar.
"I'll never forget it," he said. "I'll never forget the embrace we shared after her testimony. Meeting Brianne has really touched my life. This sounds kind of strange, but I'm thankful for the opportunity."
Chief Hall said he also ordered a review of all criminal sexual assault complaints his department has taken between 2000 and 2018. He said the review specifically covered all the criminal sexual assault complaints taken by Sgt. Andrew McCready, the officer Randall-Gay told of Nassar's abuse in 2004.
"He investigated 14 reports during that period of time and they were all in order, except for Brianne's," Hall said.
As part of the new initiatives on how his department will handle sexual assault victims in the future, he said Randall-Gay has offered to do a training video to tell her story and work with McCready on developing a community outreach program that instructs victims on how to report sexual abuse.
Hall said that beginning immediately, he's taken it upon himself to review and sign off on all sexual assault cases his department investigates "just to make sure we're doing what we say we're doing."
Randall-Gay said she believes Hall and Walsh are sincere.
"They discussed specific actions they would be taking as a department to ensure this never happens again," she said. "Although it dose not erase the pain I have suffered … this process has allowed me to take steps in letting go of the anger I had."
Copyright © 2018, ABC Radio. All rights reserved.