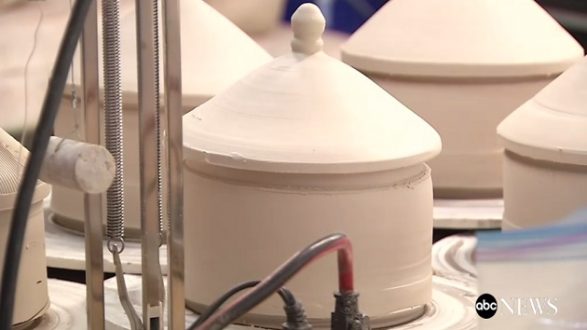 ABC News(SANTA ROSE, Calif.) — Art healing the pain of loss: That's what one California man hopes he is doing in the wake of the wildfire that scorched Sonoma County last year.
Gregory Roberts, who runs the Art Department at Sonoma State University, is taking the ashes from the charred remains of homes residents bring him and turning each bag of ashes into a glazed container, ABC station KGO reported.
The containers are based on Santa Rosa's famous Fountaingrove Round Barn.
It is part of Gregory's "Sonoma Ash Project."
Roberts, an expert on ceramics, went on social media asking wildfire victims to bring him their ashes for transformation into clay.
"Dogs, pets, my grandparent's ashes were lost and might be in here, somewhere…," Roberts told KGO of the bags he has received.
Many of the bags come with notes telling him how the ash might be saved from specific rooms or special places. In some cases, the ashes have been from where a pet disappeared, of from where a family stored the remains of a loved one.
"I always wanted to be a village potter," Roberts told KGO. "I just want people to have something beautiful to hold from what they have lost."
Copyright © 2018, ABC Radio. All rights reserved.