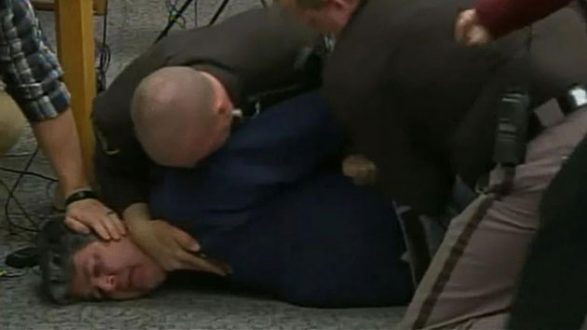 ABC News(CHARLOTTE, Mich.) — The father of three Larry Nassar victims lunged at the former Olympic team doctor in court on Friday.
Randall Margraves asked the judge if he could be alone with Nassar for five minutes.
"I'm asking you as part of the sentencing to grant me five minutes alone in a locked room with this demon," Margraves told the judge in court Friday morning.
Eaton County Circuit Judge Janice Cunningham said she would not do that, so Margraves asked again — this time for just one minute alone with Nassar.
The judge reiterated that the answer was "no." Margraves then charged toward Nassar in the courtroom.
Police in the courtroom apprehended Margraves and escorted him out of the room.
"Let me get that son of a b—," Margraves was heard saying as he was apprehended.
Nassar is facing a second sentencing hearing, this time in Eaton County Circuit Court in Charlotte, Michigan.
This sentencing process, which began Wednesday, comes more than a week after Nassar was given up to 175 years for multiple counts of criminal sexual misconduct.
Copyright © 2018, ABC Radio. All rights reserved.