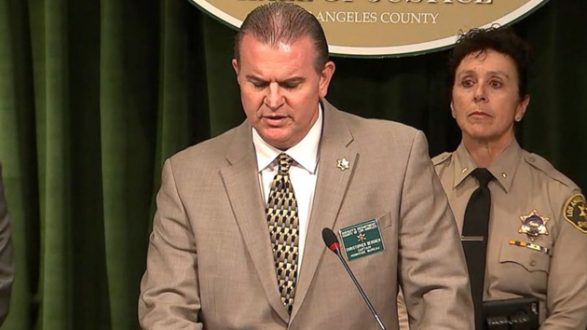 KABC-TV(LOS ANGELES) — A 16-year-old boy was shot and killed by Los Angeles County Sheriff's deputies who chased him into an apartment complex after he allegedly flashed a pistol.
At around 8:15 p.m. on Sunday, an anonymous 911 call came in describing "a young man pointing a pistol at a motorist" in the Westmont section of Los Angeles, according to a statement from the Los Angeles County Sheriff's Department.
During a press conference on Monday afternoon, Capt. Christopher Bergner replayed a snippet of the 911 call, which was placed after the driver returned to his home. The caller stated as he was driving down 107th Street when suddenly an armed young man wearing blue jeans and a black T-shirt walked onto the road.
"I was driving past and literally he just came out with his gun pointed at me," the caller said.
Asked to describe the gun, the caller said it was a black handgun and that he didn't "know if he was going to fire or not."
Two deputies arrived at the intersection, where Bergner said they allegedly "saw an individual matching the description" of the young man described in the call.
According to the statement, the deputies said they saw a handgun "tucked into" the teen's waistband. Bergner said that both deputies "gave him orders not to move."
Bergner said a witness corroborates the deputies' account, claiming they repeated the command: "Don't reach for it."
The suspect, according to Bergner, allegedly "ignored the deputies' commands" and ran toward a nearby apartment complex.
The deputies gave chase, and as they reached the courtyard of the apartment, the deputies allegedly saw the teenager "reaching down toward his waistband where the gun was located that they first saw," Bergner said.
Bergner continued: "As the suspect turned towards deputies, a deputy-involved shooting occurred."
He couldn't say how many shots the deputies fired for certain, but estimated "approximately 10."
No weapon has been recovered at the scene. Officials believe it may have been taken by someone in a crowd of around 30 to 40 people that formed around the two deputies and the fallen teenager after the shots were fired, Bergner said.
"While waiting for backup and trying to control the situation, it's believed that somebody may have taken the gun that was in the possession of the juvenile at the time of the incident," Bergner said.
The boy was "struck several times in the upper body by gunfire" and collapsed onto the ground, according to the statement.
Medics arrived on the scene but were unable to resuscitate the teen. He was pronounced dead at the scene.
So far, the deceased teenage boy has not been identified due to the fact that he is a minor, but Bergner characterized him as "local gang member in the area."
The investigation is ongoing.
Copyright © 2018, ABC Radio. All rights reserved.