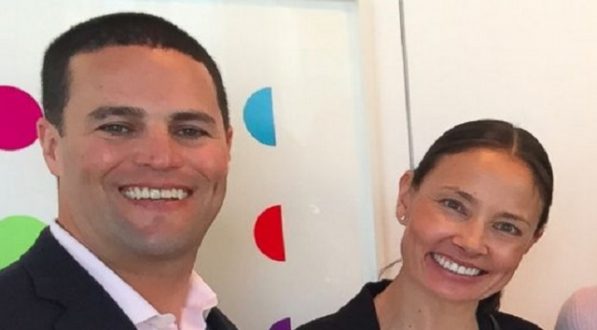 Kevin and Marina Krim/Facebook(NEW YORK) — Jury selection for the nanny who allegedly killed two young children in a New York City home begins today.
Yoselyn Ortega is accused of killing 6-year-old Lulu Krim and 2-year-old Leo Krim at the Krim family's Upper West Side apartment in October 2012.
Their mother, Marina Krim, was coming home after taking her then-3-year-old daughter, Nessie, to a swim class when she discovered her other children dead in a bathtub filled with blood, authorities said. Police said Ortega stabbed herself in the neck after killing the two Krim children.
Ortega, a naturalized U.S. citizen who was born in the Dominican Republic, worked for the Krim family for two years and had been referred to them by another family, police said at a 2012 press conference.
Ortega was arrested for their murders in November 2012 and has pleaded not guilty.
The children's father, CNBC executive Kevin Krim, said in an essay last year that it was Nessie who helped him move forward.
"When you wake up the first morning to a new and terrible world, what do you do? I didn't feel like I'd ever want to do anything ever again," he wrote. "But then little Nessie … looked at me and said, 'Daddy, I'm hungry.' And I knew I had to take care of her and Marina."
His essay appeared in Option B, a website started by Facebook COO Sheryl Sandberg, whose husband died unexpectedly in 2015.
Marina Krim wrote in a separate essay that certain moments — like hearing the theme song from "Peanuts" blaring from a beach house and receiving, with Nessie, a compliment from a stranger — felt like signs from Lulu and Leo.
"They showed me that there was still a way to connect with them," she wrote. "It was an approach inspired by who they were and what they loved. It required creativity, always an important influence in my life."
The Krims, who have since had two more children, founded The Lulu & Leo Fund, an organization that offers parents and schools a creativity curriculum based on 10 principles of creativity "that can help anyone thrive and build resiliency in all facets of their lives," according to its website.
"Marina and I shared the creative impulse to do something constructive in the face of the destructive effects of violence," Kevin Krim wrote. "We started the Lulu & Leo Fund in those early days to honor their creative, too-brief lives."
Copyright © 2018, ABC Radio. All rights reserved.