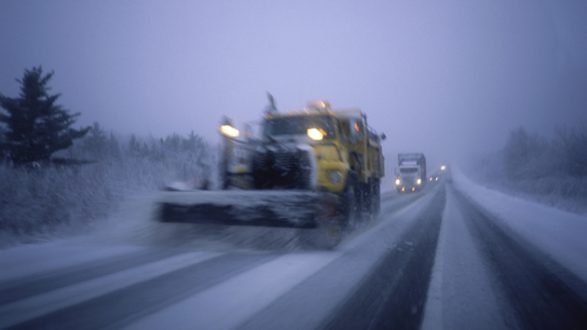 Purestock/Thinkstock(NEW YORK) — Twenty-two states from Texas to Maine are bracing for a new winter storm that's bringing snow, ice, heavy rain and thunderstorms Tuesday night and Wednesday.
Winter storm watches and warnings are in effect for the interior Northeast, where over 1 foot of snow is possible in some spots.
Some snow is already falling in parts of Kansas, Nebraska and Missouri Tuesday afternoon and showers and thunderstorms are expected from Texas to Tennessee.
By Tuesday evening, icy spots will develop in northern Texas, northern Arkansas and southern Oklahoma.
Later Tuesday night is when the brunt of the storm will begin, bringing snow, ice and rain from Chicago to Louisiana.
The greatest impacts are expected overnight and throughout Wednesday.
Overnight, 1 to 3 inches of snow will fall from St. Louis, to Chicago, to Indianapolis and through Ohio.
Ice could accumulate on Missouri, Kentucky and West Virginia roadways overnight, leading to a dangerous Wednesday morning commute.
A line of very heavy rain and isolated severe thunderstorms will be ongoing across the South during the morning commute. Louisiana, Alabama, Atlanta, the Carolinas and even as far north as Roanoke, Virginia, could be impacted.
By 9 a.m. Wednesday, the storm will be leaving the Midwest and bearing down on the Northeast.
The heaviest snow will fall in the interior Northeast, including central Pennsylvania, upstate New York, Vermont and New Hampshire. In Maine, over 1 foot is possible.
Three to 6 inches of snow is expected in Northwest New Jersey, the Hudson Valley, Connecticut and eastern Massachusetts.
The southern Ohio Valley, the Mid-Atlantic and parts of the Northeast could see ice accumulation.
Throughout the day the snow will change to ice and then heavy rain across Philadelphia, New York City and Boston.
The storm will wrap up by Wednesday night, leaving behind some colder temperatures across the east on Thursday morning.
Copyright © 2018, ABC Radio. All rights reserved.