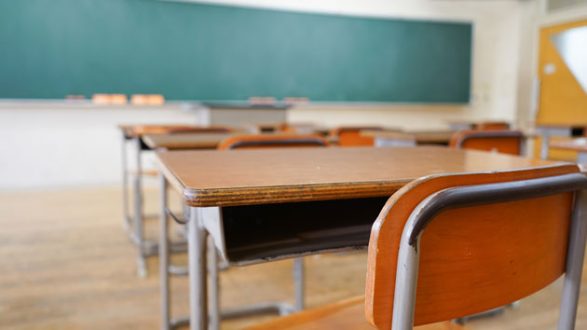 iStock/Thinkstock(LOS ANGELES) — Military veterans, parents and students are demanding that a California high school teacher be fired after he told students that the U.S. Armed Forces are for the "lowest of the low."
Hundreds of people packed a school board meeting in Pico Rivera, a suburb of Los Angeles, on Tuesday night to call for the immediate dismissal of history teacher Gregory Salcido, whose classroom rant last month has even caught the attention of the White House.
"Well, I think the guy ought to go to hell. I just hope he enjoys the liberties and the lifestyles that we fought for," White House Chief of Staff John Kelly, a retired four-star Marine general, said of Salcido during a Fox News Radio interview last week.
Kelly's opinion was echoed at the El Rancho School Board meeting Tuesday night as parents, students and military veterans called the teacher a "bully" who does not belong in a classroom.
"I know you have due process. Do your thing and then shake his ass out of here," Dewey Fisher, a veteran, told the school board.
Robert Mejia, another military veteran, told the board, "To allow him back into the classroom would be to endorse his comments."
Victor Quinonez, a senior at El Rancho High School, secretly recorded the 49-year-old Salcido's anti-military rant in January that he says started when the teacher confronted him in front of his classmates about a Marine shirt he was wearing.
"Why are you wearing that Marine shirt. I thought you were going to college?" Salcido is heard in a series of three videos that were posted on Facebook and have been viewed nearly 8 million times.
Salcido then slams military recruiters, telling the students, "I don't understand why we let the freakin' military guys come over here and recruit you at school. We don't let pimps come into school."
He went on to tell the class that the U.S. military hasn't won a war since World War II, and lambasted presidents, including Barack Obama, for always saying "we have the best military in the world."
"Because we have a bunch of dumbs—- over there," Salcido was recorded saying, interspersing his remarks with profanity. "Think about the people you know who are over there. Your freakin' stupid Uncle Louie or whatever … They're not like high-level thinkers. They're not academic people. They're not intellectual people. They're the lowest of the low."
And he didn't stop there, telling the class that students who join the military do so "because you have no other options."
"Because you didn't take care of business academically, because your parents didn't love you enough to push you, you didn't love yourself enough to push yourself," he said.
The school district has placed Salcido on paid administrative leave and its legal team is conducting an investigation.
"The District has stepped forward to conduct a full and complete investigation into our professional standards which mandate that the values of students, their parents, and other family members are to be respected in the classroom at all times," school district officials said in a statement.
"Due process requires the District to investigate the facts, decide what action, if any, should be taken based on those facts, and use procedures set forth in law and contract before imposing any discipline," the statement continues. "We are already deeply engaged in that process."
Salcido, who is also a Pico Rivera city councilman, did not respond to phone calls and email from ABC News seeking comment.
"We haven't been able to talk to him either," Pico Rivera Mayor Gustavo Camacho told ABC News on Wednesday. "Myself, my colleagues, staff have all been trying to reach him."
Camacho said Salcido's comments about the military were "offensive and unfortunate."
"I have denounced his comments. I disagree with Mr. Salcido wholeheartedly," Camacho said. "I've removed him from all city committees, which I have the authority to do."
He pointed out that there are two Veterans of Foreign Wars posts and two military auxiliary posts in Pico Rivera, a city of 63,000 residents.
"We're exploring our options on what to do about Mr. Salcido," Camacho said. "There is strong will in the community that Mr. Salcido step down. We're not going to let one individual define our community."
Victor Quinonez, the student who took the videos of Salcido's classroom rant, was among those who addressed the school board Tuesday night.
"Salcido should be fired and his credentials should be taken away because I don't believe students should be hurt anymore and to be scared to go inside his classroom," Victor told ABC station KABC in Los Angeles.
Victor's father, Vincent Quinonez, added that he was "truly disgusted" by Salcido's comments.
"I could not believe that we allow educators to talk to our children like this," he told KABC. "It's just unbelievable."
Copyright © 2018, ABC Radio. All rights reserved.