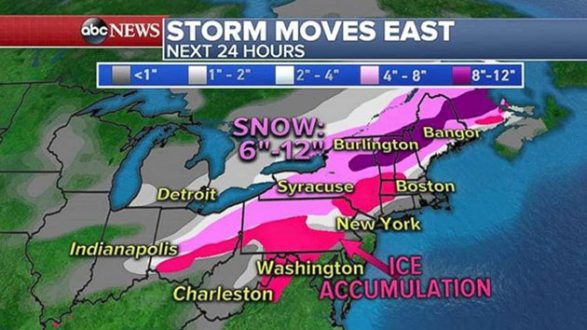 ABC News(NEW YORK) — Freezing rain was responsible for numerous accidents, spinouts and crashes from Texas to Arkansas and into the Ohio Valley overnight as a potent winter storm moves into the Northeast on Wednesday.
Twenty-five states are under winter weather alerts from Texas to Maine on Wednesday as the storm system stretches from southern Texas to Ohio Valley.
The snow and ice ahead of the storm was already hitting Louisville, Detroit and Cleveland overnight, and it is moving into Washington, D.C.; Philadelphia; and New York City on Wednesday morning. The morning commute is expected to be a slippery mess for I-95, I-80 and I-90.
In the Deep South, along the cold front, strong to severe storms are moving through Louisiana, Mississippi and Alabama. Some of these storms could bring gusty winds, hail and even a chance for isolated tornadoes.
By late Wednesday morning, as the storm moves further northeast, the snow and ice should change to all rain along the coast from Washington, D.C., to New York City and Boston. The ice and snow will continue in upstate New York, western Pennsylvania and into New England.
By the evening commute, heavy rain will continue for I-95 corridor from Philadelphia to Boston, and snow will continue for New England and around Albany.
The heaviest snow will fall from western Pennsylvania into central New York and into New England, where 6 to 12 inches of snow is possible. Some areas in the higher elevations could see more than a foot of snow.
The highest ice accumulations will be in southern Pennsylvania, the Hudson Valley in New York and into southern New England.
Behind this storm system, a new storm is dropping out of Canada and is expected to bring more snow to the Midwest and Northeast for Thursday through Saturday morning.
Winter storm watches are already being posted from the northern Rockies into Chicago for the end-of-week storm.
Copyright © 2018, ABC Radio. All rights reserved.