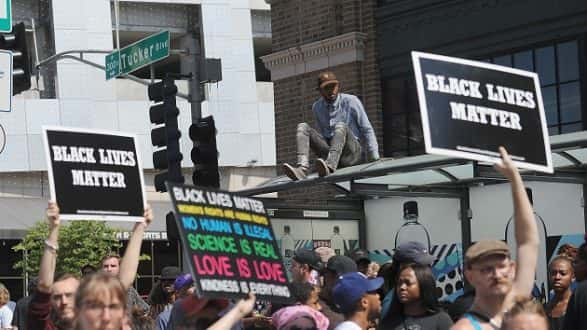 Michael B. Thomas/Getty Images(NEW ORLEANS) — A Black Lives Matter activist who spent the past few years fully engaged in the movement was killed during a visit to New Orleans Tuesday, authorities said.
The circumstances surrounding Muhiyidin Moye's death were unclear, but an officer responding to a call about gunshots found him lying on the ground, according to a New Orleans Police Department report.
Moye, 32, asked for help as police arrived, according to the police report, which also described a bicycle near him as being covered in blood.
The shooting occurred around 1:30 a.m. Tuesday, and Moye later died in the hospital, New Orleans police spokesman Beau Tidwell said in a statement.
Moye was the activist caught on video last year in Charleston, South Carolina, as he grabbed a Confederate battle flag from a demonstrator live on television, but his impact on the community extended much further, his brother said.
"He wouldn't just protest; he was in the communities, working, speaking with leaders, checking on families," Ibraheem Moye, 27, told ABC News of his brother. "He wanted to show people that social injustice wasn't going to be allowed."
Muhiyidin Moye earned his bachelor's degree from the University of South Carolina in Columbia and his master's from Winthrop University in Rock Hill, South Carolina, according to his brother.
His brother wasn't sure why Muhiyidin was visiting New Orleans but he suspected it involved his activism.
Moye had previously demonstrated on behalf of the family of Walter Scott, whom a North Charleston, South Carolina, police officer shot to death after stopping him for a non-functioning brake light. Moye also subsequently interrupted several City Council meetings there, demanding changes be made in the police department.
The former officer, Michael Slager, was sentenced to prison in connection with Scott's death.
No arrest has been made in connection with Moye's shooting death, police said.
Copyright © 2018, ABC Radio. All rights reserved.