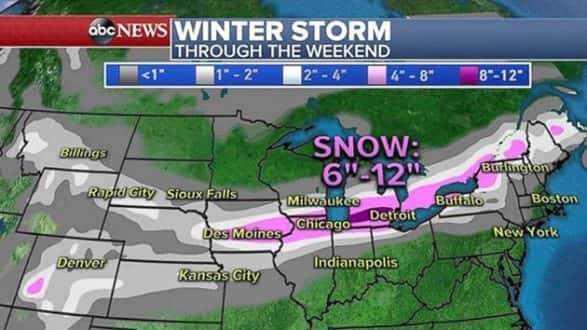 ABC News(NEW YORK) — The biggest snowstorm of the season hit the Midwest hard overnight, where up to 9 inches of snow have already fallen with more to come.
But Friday's storm is not the end, as yet another storm is forecast to hit the Midwest, parts of the South and the Northeast this weekend.
Because of all the snow — and flooding forecast — storm alerts are issued for 20 states from Wyoming down to Georgia and into New York.
The storm system is moving through southern Great Lakes Friday morning, bringing snow from Iowa to Ohio. Snowfall rates are 1 to 2 inches per hour from Chicago to Detroit.
Snow will be done in Chicago by Friday's evening commute, and mostly over in Detroit. Snow will continue to fall from Buffalo, New York, to parts of western New England.
By Saturday morning, the storm system will begin to weaken but will bring light rain and snow to parts of the Northeast and New England from Buffalo, New York, to Burlington, Vermont, and into Maine.
Just as one storm system moves out, a new storm system moves right behind it for Saturday night into Sunday morning.
This second system will be much larger, stretching from the Midwest into the South and Northeast.
More snow is expected for cities such as Chicago and Detroit, with heavy rain expected from Nashville to Charleston, West Virginia, which could cause some flooding. Heavy rain is also forecast for Washington, D.C.; Philadelphia; New York City; and Boston.
The total snowfall forecast through the weekend from both storms will be the heaviest from Iowa into northern Illinois and from southern Michigan into western New York, where some areas could see 6 to 12 inches of snow.
Rainfall totals will be up to 4 inches for the South and 2 to 3 inches for the Northeast along the I-95 corridor.
Copyright © 2018, ABC Radio. All rights reserved.