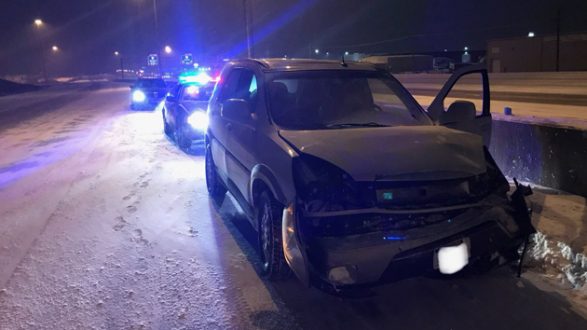 @TroopAOmaha/Twitter (NEW YORK) — A winter storm took aim at the Midwest Friday, giving parts of the region their biggest snowfall so far this season.
A narrow band of heavy snow caused travel headaches across parts of Illinois, southern Michigan, and Indiana. About 6 to 10 inches of snow fell in the Chicago area. O'Hare International Airport recorded 7.8 inches of snow. Some of the heaviest snow fell immediately south of the city, where locally, over a foot of snow fell. Because of the storm, the Windy City is ending this week as the snowiest week in 3 years.
The heavy snow in Michigan caused numerous multi-car pileups. One fatality was reported in Fenton, and a Michigan State trooper was injured responding to a crash on an Interstate. On I-94, a multi-vehicle crash involved 16 semis and 22 passenger cars.
Another disturbance slid towards the Midwest Saturday morning. Winter weather advisories were issued for parts of the Plains due to some light snow, and freezing drizzle. Some light snow was headed to Chicago Saturday morning, but accumulations were rather light with only 1 to 3 inches expected.
A current concern is the heavy rain threat developing along a slow-moving frontal boundary for much of the eastern U.S. There is a heavy rain and flood threat developing from eastern Texas to New Jersey as a result of this disturbance. On Saturday morning there was heavy rain falling in Southeast Texas and parts of the Mississippi River valley.
Later Saturday morning, the rain expanded and intensified across the Gulf and Southeast before moving towards the Appalachians later Saturday night. There could be some gusty thunderstorms that develop along the Gulf states Saturday, especially in Louisiana, Mississippi and Alabama.
By Sunday morning, heavy rain will be falling from Washington D.C to New York City. Locally heavy downpours can be expected across the I-95 corridor from Virginia to Rhode Island on Sunday.
Another little round of snow will slide in behind this system bringing more light accumulations to parts of the Midwest, including Chicago, Indianapolis and Grand Rapids, Michigan.
Chicago, which saw several rounds of snow this week, will see several rounds of snow again this weekend. Accumulations will be light, with locally 1 to 4 inches. Some snow accumulations in parts of interior New York State to Maine could reach 4 to 6 inches. There also will be patchy ice that will develop from light freezing drizzle from the Ozarks all the way to parts of the interior of New England. This could lead to slippery conditions for drivers across this region.
Heavy rain could spark some flash flooding from Texas to New Jersey. Locally 3 to 4 inches of rain is possible across the entire region. Of particular concern for flooding will be along the Appalachians from northern Georgia to West Virginia.
A flood watch is in effect from Montgomery, Alabama to Philadelphia through much of this weekend.
Behind these systems it is quite cold. Wind chills Saturday morning in parts of the upper Midwest and northern Plains were -20 to -30 degrees below zero. Some of this colder air slides south and east for Sunday.
Over on the West Coast, Los Angeles and San Francisco both are seeing their February monthly average temperature around 10-11 degrees above average. This is about to change, though — no more records in the forecast. And while temperatures were mild Saturday, temperatures will be trending towards a little more seasonable over the next several days.
A cold front moving across the Four Corners will kick up some wind. Wind gusts over 45 mph will be possible in parts of the Las Vegas area Saturday. Strong winds are also expected in parts of northern Central California, as well.
The dry and windy weather is a concern for possible fires in Southern California, including the hills and mountains surrounding Los Angeles. Fires will also be possible in Arizona, near Tucson and Las Cruces.
Copyright © 2018, ABC Radio. All rights reserved.