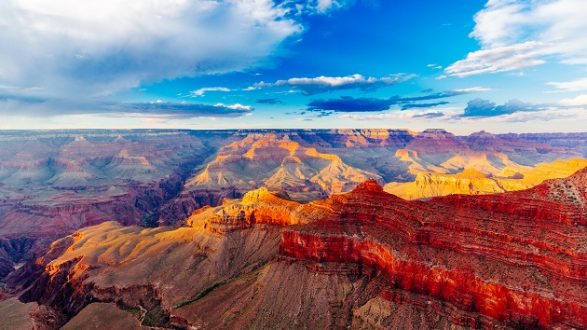 iStock/Thinkstock(PEACH SPRINGS, Ariz.) — A helicopter touring through the Grand Canyon crashed late Saturday afternoon, killing three people and injuring another four, officials told ABC News.
A Papillion Airways Eurocopter EC130 "sustained substantial damage" when a crash was caused "under unknown circumstances" in the Grand Canyon," FAA spokesman Allen Kenitzer told ABC News.
Kenitzer added that the location of the crash is 3 miles east of the Grand Canyon West Airport, which is located in Peach Springs, Arizona.
Hualapai Nation Police Chief Francis Bradley told ABC News that the crash occurred at 5:20 p.m. local time, with 6 passengers and 1 pilot on board the helicopter.
It is unclear if the pilot is injured or deceased.
As of 9 p.m. local time, the four injured people — all of whom were Level 1 trauma patients — were still at the scene, because of the difficulty of getting to the site due to high winds, darkness and hard terrain.
Helicopters were to be used to evacuate the injured.
According to Papillion Airway's website, the carrier flies roughly 600,000 passengers a year on Grand Canyon and other tours.
ABC News has reached out to Papillion Airways for comment.
Copyright © 2018, ABC Radio. All rights reserved.