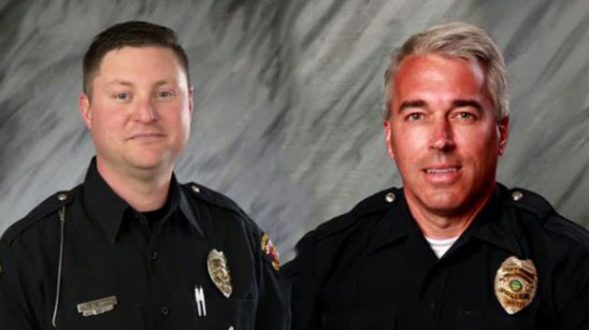 Westerville Police (COLUMBUS, Ohio) — Ohio Gov. John Kasich Monday ordered all flags be flown at half-staff in the state in honor of two police officers who were gunned down in the governor's hometown while responding to a 911 hang-up call.
Westerville police officers Eric Joering and Anthony Morelli were "true American heroes" and "were two of the best we had," Westerville Police Chief Joe Morbitzer said this weekend.
"This was their calling, and they did it right," Morbitzer said.
A procession was held this morning for the fallen officers, leading from the coroner's office to the funeral homes.
The two were responding to a "potential domestic situation" Saturday and were "immediately met with gunfire" and exchanged fire with the suspect, Morbitzer said.
Morelli, 54, was a 29-year veteran of the department. Joering, 39, was a 16-year veteran of the department. Morelli was married with two children and Joering was married with four daughters, according to The New York Times.
Morbitzer said Sunday that as the department works with the families on funeral arrangements, the police "have seen fake GoFundMe pages established already. We have had people calling our radio room screaming threats, obscenities and vulgarities at our radio techs. And quite frankly there's a special place in hell for those people, and my wish is that it comes very soon."
The suspect, 30-year-old Quentin Lamar Smith, was also injured in the shooting and is in the hospital, police said. He is expected to survive, police said.
The Columbus Division of Police, which is leading the investigation, has filed two counts of aggravated murder charges, according to the city of Westerville.
He has not yet entered a plea.
President Donald Trump tweeted Sunday that he spoke to Kasich "to express condolences and prayers to all for the horrible shooting of two great police officers."
Kasich tweeted about the shooting several times, including to say, "The finest among us are those who risk it all everyday for our safety, and Officers Anthony Morelli and Eric Joering were those people. Their deaths are a terrible tragedy for my hometown of Westerville and all of Ohio."
New York City Police Commissioner James O'Neill also spoke out, tweeting, "Everyone should be as upset about this as America's law enforcement officers are. No cop, anywhere, 'signed up' to be murdered."
Copyright © 2018, ABC Radio. All rights reserved.