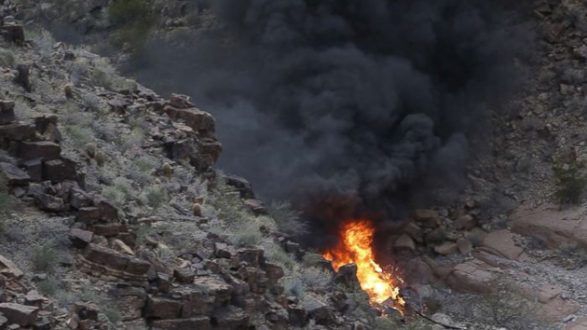 Teddy Fujimoto(WASHINGTON) — The NTSB is looking "very closely" into whether the sightseeing helicopter that crashed in the Grand Canyon Sunday, killing three people and seriously injuring four, was equipped with technology designed to prevent fiery explosions, an agency official told reporters Tuesday.
"The crash-resistant fuel system is a very important part of this investigation," said investigator Stephen Stein, adding, the wreckage included "evidence of a post-crash fire."
However, according to Airbus, crash-resistant fuel systems are "not standard" on this chopper, an EC130 B4.
Such systems — designed to prevent fuel leaks that can spark deadly fires in otherwise survivable crashes — are built into newer versions of the EC130, such as the T2, a company spokesperson told ABC News.
Airbus said an FAA-approved "retrofit kit" to add the anti-fuel fire system onto older models is available through a company called Vector Airspace.
Both Vector and Airbus declined to comment on whether the chopper that crashed Sunday had been retrofitted, or whether the operator, Papillon Airways, had purchased any retrofit kits for their fleet.
Papillon declined to comment, referring ABC News to the National Transportation Safety Board.
Since 1994, the FAA has required all newly certified helicopters to include crash-resistant fuel systems "to minimize the hazard of fuel fires to occupants following an otherwise survivable impact," according to agency reports. But models approved before 1994 — like the EC130 B4 — are exempt from that requirement.
Since then, several crashes have sparked fires that the NTSB believes could have been prevented.
In March 2015, an EC130 B4 slammed into a parking lot structure in St. Louis. The pilot "sustained fatal thermal injuries." According to an NTSB investigation, the crash would have been "immediately survivable in the absence of a fire" had the EC130 not lacked the crash-resistant fuel system.
In a similar incident just four months later, an Airbus AS350, also lacking a crash-resistant fuel system, struck a recreational vehicle and burst into flames. The pilot died in the blaze, and another occupant suffered burns over 90 percent of his body. He later settled a lawsuit against the maker and operator for a record $100 million.
According to the NTSB, the 5,600 choppers manufactured in the 10 years following the 1994 decision, only 850 — or about 15 percent – included crash-resistant fuel systems.
Copyright © 2018, ABC Radio. All rights reserved.