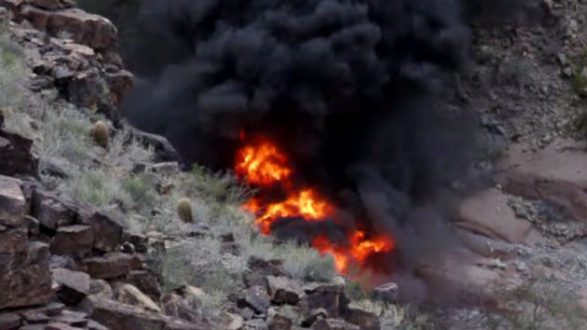 ABCNews.com(LOS ANGELES) — A San Jose-bound Southwest flight was evacuated in Southern California on Monday after crew members reported a fire in the plane's auxiliary power unit, officials said.
About 140 passengers and five crew members were forced to exit Flight 2123 after ground personnel at John Wayne Airport in Orange County, California, noticed smoke coming from the back of the plane as it left the gate.
The fire has since been extinguished.
Southwest said the plane's chutes were deployed to get passengers off the plane quickly. There were a few minor injuries reported, but no one was transported, according to airport officials.
"Standard protocol was initiated and evacuation slides were deployed. Local Fire and Rescue met the aircraft and the 139 passengers and five Crew Members departed the aircraft via the slides," the airline said. "Local Orange County Employees are working diligently to accommodate the passengers on another aircraft to get them to their final destination this evening."
"Paramedics are onsite but no serious injuries have been reported," Southwest added.
The FAA confirmed the incident in a statement to ABC News, saying it had caused partial taxiway closures, but it did not say if it was investigating the cause of the fire.
Airport officials said operations were "back to normal" by 11:35 p.m. EST, according to a statement posted on Twitter.
Copyright © 2018, ABC Radio. All rights reserved.