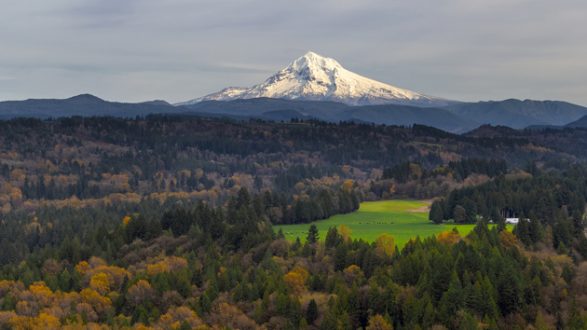 iStock/Thinkstock(PORTLAND, Ore.) — Sometime during the frantic day high up on Oregon's Mount Hood, a stranded climber used a cellphone to inform authorities and rescuers heading to the peak that the conditions had turned nasty — with falling rocks coming down on the climbers in the group like "a bowling alley."
Air Force Maj. Chris Bernard, assigned to the 304th Rescue Squadron of the Air National Guard Base in Portland, Oregon, said at a press conference this afternoon that the caller was a climber who "went up the mountain" and reached a popular climbing route known as Hogsback.
Since then, the advice by the authorities has been to turn off the phone to save the battery and only turn it back on intermittently as 40 rescuers come to help the climber and others stranded on the mountain get down to safety.
Clackamas County sheriff's spokesman Brian Jensen estimated there are seven to 15 climbers still up on Mount Hood, he said at the press conference.
He added that however calm the conditions on the mountain may have been earlier in the day, it's diminished fast.
"There is falling rocks and ice, which is normal when you have freezing at night and it gets so warm during the day that it creates a very hazardous and treacherous situation on the mountain. That's what we have up today," Jensen said.
There are two groups dealing with injuries who were stranded on the peak, Jensen said.
Rescuers, he said, were trying to get to two groups of climbers in the Hogsback area.
The first is made up of four climbers; one of whom suffered non-life-threatening injuries on the Hogsback portion of the mountain.
Jensen assured that rescuers have "been in communication with this group; they are safe."
They have one cellphone between all of them and enough food and water for a day. It's this first group that experienced the conditions with ice and rocks falling on them, leaving them stuck.
The second group of climbers are on the backside of Hogsback. One climber in that group, Jensen said, fell around 700 to 1,000 feet below.
Live footage captured by ABC affiliate KATU-TV shows multiple climbers descending from the icy peak using a sharp ax tool.
Jensen said the first distress call was logged at 10:30 a.m. about a fallen climber.
"At the time there were two eyewitnesses to the fall, however, there was nobody with the fallen climber at the time," he said.
Authorities confirmed to ABC News that the Oregon National Army Guard dispatched a Blackhawk helicopter to support the search and rescue effort on the icy surface.
Oregon Emergency Management official Cory Grogan confirmed to ABC News that "there was an effort to resuscitate a person that they were attempting to rescue."
It remains unknown if the climber, confirmed by both Jensen and Bernard as a male, was able to be saved or not. He was rushed to Emmanuel Hospital, Bernard confirmed.
The temperature up on Mount Hood, a popular climbing and skiing attraction, ranges from freezing to a warmer climate during the day, creating treacherous conditions.
Grogan reinforced the dangers that hikers from beginners to masters face on Mt. Hood.
"Hikers go up there and they don't realize how dangerous this mountain can be," he said. "To hike this mountain — it's no joke."
Jensen acknowledged that many novices should probably think twice before attempting to summit Mount Hood.
"We leave that up to the climbers this is a public mountain and we want everyone to enjoy it," he said. "We just hope that they use common sense and realize that this isn't a backyard hill, this is a mountain that is deadly."
Jensen added that the climbers left on the mountain waiting to get rescued are likely experiencing some kind of duress.
"I can't speak to their mental state," he said. "I know what mine would be if I was up there though and I would be a wreck."
Copyright © 2018, ABC Radio. All rights reserved.