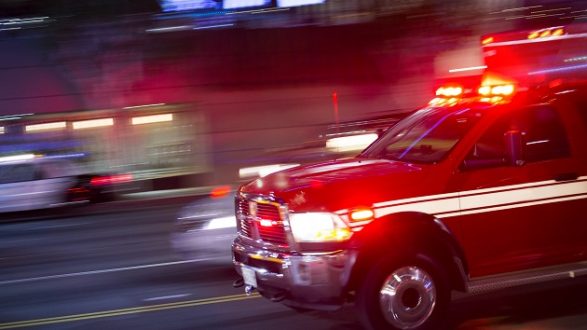 iStock/Thinkstock(PARKLAND, Fla.) — The mom of one of the students at a South Florida high school where a shooting took place Wednesday afternoon said her daughter texted her, telling her to stay away from the school.
The Stoneman Douglas High School student, named Crystal, texted her mother at the start of the shooting while still inside the school, telling her that she heard the gunshots and that she was scared.
"We're safe mom, you stay away," Crystal texted, according to her mother, who rushed to the school from the nail salon, where she saw the news break on television.
Crystal told her mother that she couldn't speak to her over the phone because teachers were instructing them to be quiet. Crystal also texted that she didn't want to go to school the next day.
"I said, 'Don't worry about it,'" the worried mother told ABC Miami affiliate WPLG.
Another mother said she told her son, freshman Dubby Johnson, to run after he called her in a panic, telling her, "There's a shooting at school!"
"It's the scariest thing ever for your son to call you and say there's a shooting in school," she told WLPG.
Dubby said he was outside the school when he heard two gunshots. He then saw a crowd of people running in his direction before teachers came out and instructed them to run as well.
"As soon as I saw a whole bunch of people running, I got scared," Dubby said.
Some of the students sought refuge at a Walmart near the school, but Dubby's mother said she couldn't get there at first.
"I think I'm gonna hold him a little tighter tonight," she said.
A grandmother who was visiting from New York cried as she told reporters that they couldn't get ahold of her granddaughter, a senior at the school. The grandmother said that a student close to her granddaughter was shot at the school.
One mother said her freshman daughter was locked down in the auditorium.
"She's texting back, thank god," she said of her daughter. "I'll be relieved when she comes out and I can give her a hug."
One shaking mother told WPLG that her daughter said she was OK, huddled in a locked classroom.
"She's terrified," the mother said. "She said she heard the gunshot."
"I'm glad that she's able to text," she added.
At least 14 people were taken to local hospitals, officials said. The extent of their injuries was unclear.
More than 3,000 people attend the school.
Video showed students running, some with backups on, with their hands up away from the school.
The suspected shooter was taken into custody, officials said.
Copyright © 2018, ABC Radio. All rights reserved.