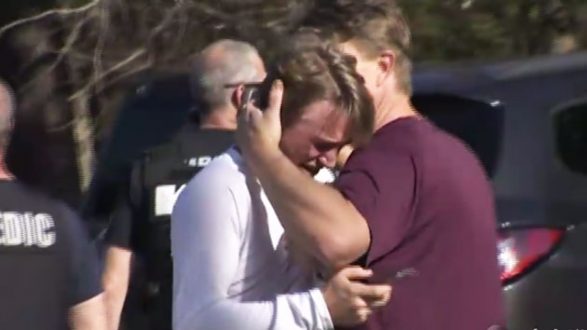 ABC News(PARKLAND, Fla.) — Students at the Marjory Stoneman Douglas High School in South Florida gathered near campus late Wednesday night, hoping for updates on their friends and classmates, as police continued to investigate the mass shooting that took place a few hours earlier.
Police were combing the school and social media for clues on what may have caused the suspect to storm the school with an AR-15 rifle, fatally shoot at least 17 people and injure more than a dozen. Victims included students and adults, police said.
Authorities arrested 19-year-old Nikolas Cruz, who was expelled from Marjory Stoneman over disciplinary problems, in the aftermath of what has become the deadliest school shooting since an attack on an elementary school in Newtown, Connecticut, in 2012.
The suspect slipped away from the Parkland, Florida, high school campus by blending in with other students who were trying to escape, police said. Cruz later was apprehended in Coral Springs, just outside Parkland and about 30 miles northwest of Fort Lauderdale.
Students and parents were still close to the scene at Marjory Stoneman, a school with about 3,000 students, several hours after the shooting, waiting for updates from police. Some were seen kneeling and crying while others held pictures of missing classmates.
One student at the scene, 17-year-old junior Dakota Mutchler, said he knew something was wrong when the school carried out two fire drills back-to-back, which he said "was odd because they don't do two fire drills in the same day."
"Everyone started lining up in the field like they were supposed to, and then you started seeing kids running," Mutchler told ABC News late Wednesday. "It became clear that it was no longer a drill. It was the real thing."
Mutchler, desperate for information on two missing friends, said knew the suspect but that they stopped speaking when Cruz began to act violent towards others.
Cruz would often post videos on social media of his killing or harming animals, said Mutchler, adding that the suspect also threatened a female friend of his once.
"Everyone in school, like those that knew him, speculated about him," Mutchler continued. "He got suspended a lot of times and he sold knives in his lunch boxes and he was expelled, but no one expected him to come back and shoot. He started progressively getting a little more weird and I kind of cut off from him because I felt like he was a bad influence on me."
The suspect tried adding Mutchler on on Snapchat a few weeks ago, but he "just declined it because I didn't want to talk to him."
Others students on the scene who knew Cruz described him as someone with a penchant for weapons and violence and that he'd talked about having "target practice in his backyard" with a pellet gun.
"He was in my class in seventh grade," Gabrielle Pupo, a survivor of the attack, told reporters Wednesday night. "I knew he wasn't OK when he punched the window in and said, 'I'm gonna cause karma one day,' because he got in trouble with the teacher."
Pupo said she saw Cruz shoot a faculty member and coach at the school, Aaron Feis.
"I heard the shots, and then I saw the shooter run after Mr. Feis, and I saw Mr. Feis get shot," Pupo said. "Today he tried blending into the crowd and was talking to one of my friends as he was exiting."
"He was very focused on what he was doing," she added.
Pupo, who came to the scene Wednesday night to light candles for two missing friends, is one of the many students holding out hope as police work inside to identify the victims.
Victoria Olvera, a 17-year-old senior, said she was also looking for two friends who went missing after the tragedy.
"We called her family and they don't know either," Olvera said, holding up a picture of a "close friend" believed to be in the freshman building when the shooting happened. "It's not real. It doesn't feel real at all."
Witnesses reported a barrage of gunfire around 2:40 p.m., near dismissal time. Video posted on social media showed students were fleeing from the shooting with their hands in the air. One student said he had to climb a fence to escape.
"My teacher thought it was a firecracker, but then a gunshot went off again, so I started running out of my class," a student, who only gave his first name, Amar, said in an Instagram post. He said his teacher tried to usher him back into the classroom, but he was afraid of getting trapped in the building.
"I couldn't. I had to go," he said. "I jumped the gate as quick as I can."
Survivors of the shooting have flooded social media with images from the scene, with some sharing video from inside classrooms as teachers and faculty tried to keep students calm amid sounds of rapid gunfire.
The school will be closed the rest of the week, and grief counselors will be made available for students beginning this morning, officials said.
The FBI has encouraged anyone with potentially useful pictures or videos of the incident to upload them online.
Copyright © 2018, ABC Radio. All rights reserved.