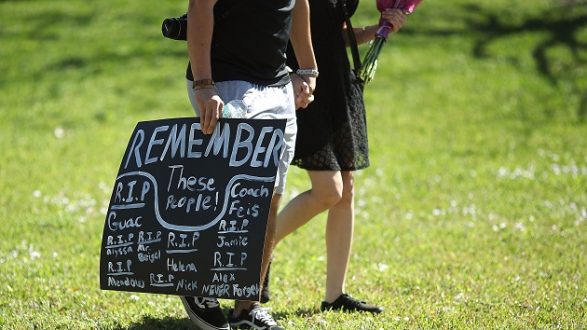 Mark Wilson/Getty Images(PARKLAND, Fla.) — Hundreds of people attended a vigil remembering the 17 victims who were killed in a school shooting in Parkland, Florida on Wednesday.
Several speakers took to an elevated stage to pray for those who died, the injured who are recovering in the hospital and the first responders and school staff who worked so valiantly to keep them safe.
"We mourn for the potential that was lost — for the hopes, for the joys, for the dreams that will never be realized," one speaker said of the young victims and the heroes who died while protecting the students.
Nearly every seat in the outdoor auditorium was filled, with an audience so large that it spilled onto the sidewalk on the other side of the fence separating the area.
Some members of the crowd nodded silently, while others cried with their hands buried in their faces, as numerous prayers were read.
Earlier in the day, 17 balloons were released during a vigil at the Parkland Baptist Church, one for each who was killed.
Multiple students were in attendance at a separate vigil at Parkridge Church in Pompano Beach, showing their support for their fallen classmates by wearing shirts emblazoned with an eagle, the school's mascot.
On Wednesday afternoon, a former student of Marjory Stoneman Douglas High School, 19-year-old Nikolas Cruz, allegedly opened fire on school campus. In addition to those who died in the attack, more than a dozen people were injured, some critically.
Cruz, who has been charged with 17 counts of premeditated murder, appeared in court Thursday afternoon and is being held in the Broward County Jail without bond.
At the vigil, prayers were read for Cruz and his extended family as well.
"We ask that you would intervene in his disturbed mind and show him the hope that can only be found in you," one speaker asked God, holding back tears. "We pray for your miraculous work to be evident in him, and in spite of him."
Copyright © 2018, ABC Radio. All rights reserved.