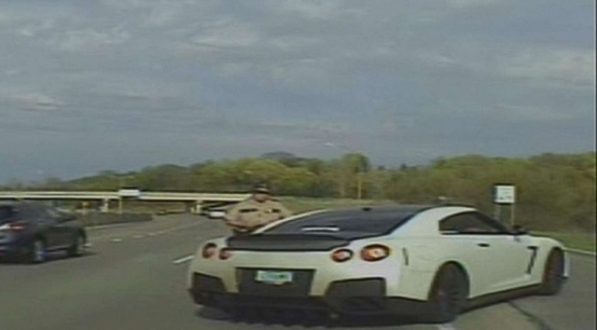 KSTP/ABC News(MINNETONKA, Minnesota) — A high-speed police chase of luxury sports car that looked like something out of movie was caught on newly-released dashcam footage.
A lime green Lamborghini, a Ferrari, another Lamborghini and an Audi were among the pack speeding as fast as 110 mph on a Minnesota highway.
The video shows Minnesota State Patrol Lt. Paul Stricker pursuing the pack of exotic cars for several miles along Interstate 394 in April 2016 and captured his conversations with the drivers when he finally caught up with them
Striker asked one of the drivers if he knew why he was being pulled over.
"For speeding?" the driver said.
"A bunch of beautiful cars going that fast out here," Striker replies. "It's like Cannonball Run all over again," referencing the '80s movie starring Burt Reynolds.
Some of the drivers were pulled over along the highway and others were detained at a gas station nearby.
After issuing the drivers speeding tickets, Striker sends them on their way with a bit of advice.
"You guys have got beautiful cars, enjoy them," he said in the dashcam footage. "But, just run them in the right spot. There's tracks around, I know you can run them."
The cases have now been closed, allowing the video to be released, Minnetonka City Attorney's office confirmed to ABC affiliate KSTP.
Copyright © 2018, ABC Radio. All rights reserved.