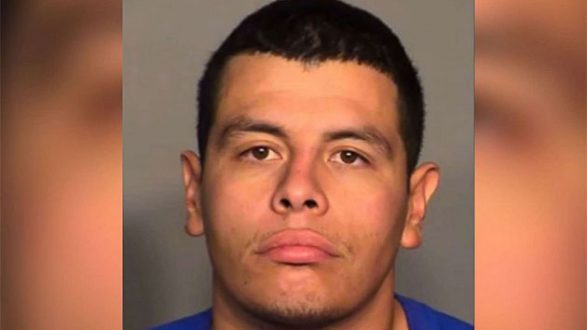 Las Vegas Metropolitan Police(LAS VEGAS) — The daughter of a homeless man who was killed in Las Vegas said she can finally breathe now that a suspect is behind bars.
Oneida Lewis Baker's father, James Lewis, was shot and killed on Feb. 2 while he was sleeping under a bridge, according to the Las Vegas Metropolitan Police Department and the coroner's office. The killing was caught on graphic surveillance video.
Three other shootings — including one other fatal one — were carried out on Jan. 29. Police said all four shootings were from the same gun.
Three of the four victims were homeless; authorities said it appeared the gunman was targeting homeless people.
After weeks of investigating, an arrest warrant was issued Tuesday for Joshua Castellon, 26, in connection with all four shootings, police said. Castellon had already been arrested Feb. 16 on a federal weapons charge, police said.
"This case would not have been solved if it weren't for a viewer who provided us with a key tip that helped us identify Castellon," Capt. Robert Plummer of the Las Vegas Police said Tuesday.
"I am so relieved," Baker told ABC News Wednesday. "Last night was the first night since I heard about this I actually got sleep."
Now that she knows a suspect is behind bars she said she can "actually breathe."
"Because for weeks on end I actually felt like I had asthma and couldn't breathe," Baker said.
Before Lewis died, Baker had been searching for him. She said she wonders why her father was homeless "when he has kids and grandkids, a mom and dad still alive, brothers and nieces and nephews and cousins. Why? We absolutely love you and adore you."
"As much as I did to try to find him and I didn't come up with anything," she said, "he still should be" alive.
Baker said this past Saturday was especially difficult because she selected her father's funeral suit, ironed it and took it to the funeral home.
"I was just sitting there thinking I couldn't find my dad after all the efforts that I made," she said. "This is final, and doing something for him for the last time … was very hard for me. The tears started coming and I knew I can't cry right now because I have to finish this for my dad so he can have a nice home going service."
Earlier this month, before a suspect was identified, Baker told ABC News she wanted to have her chance in court to ask her father's killer: "Why?"
The homeless are "sweet, loving. They're humans just like you and I," Baker said. "Their life is still precious. In fact, I think their life is more precious because they have to fight harder to survive on a day-to-day basis. The little things we take for granted, they don't."
Castellon is facing two counts of murder and two counts of attempted murder, police said. He will be booked into the Clark County Detention Center after the federal case is resolved, police said
Copyright © 2018, ABC Radio. All rights reserved