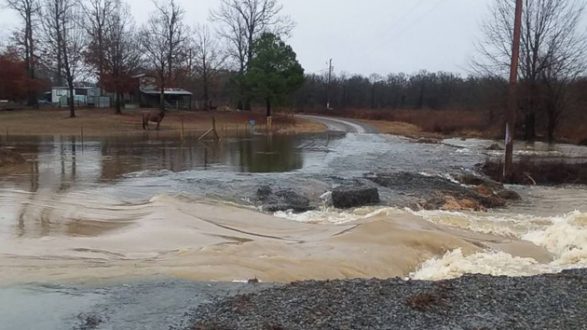 Anthony Watson(NEW YORK) — Flooding remains a big threat from Texas to Michigan to Pennsylvania where relentless rounds of heavy rain keeps falling over the same areas, causing streams and rivers to continue to rise right into the weekend. Flood watches are still in effect Friday from Texas to Pennsylvania and will likely stay up into the weekend for the next round of rain on Saturday into Sunday.
Twenty-two rivers across the country are currently in "major flood stage," with the majority of those being in northern Indiana and southern Michigan: The Yellow River, St. Joseph River, and Kankakee Rivers in Northern Illinois are all in major- and record-flood stage and will remain that way for the next few days.
From the Rockies to the Upper Midwest, winter weather advisories and winter storm watches are in effect for a new storm to bring a blast of snow on Saturday.
A new storm will bring more flooding rain, heavy snow, and severe weather across the country over the weekend. By Saturday afternoon, more heavy rain stretches from Texas to Pennsylvania with severe weather in the South. On the wintry side of the storm, snow will move across the central and Northern Plains, from Omaha to Minneapolis by Saturday afternoon into the evening.
Severe weather is possible Saturday afternoon and evening from Dallas to Louisville, with an enhanced threat from Little Rock to Memphis to Evansville. Damaging winds and a few strong tornadoes are all possible, along with isolated instances of large hail and flash flooding during the heaviest downpours. Storm timing for the enhanced area will be between 4:00 p.m. and midnight.
Looking ahead to Sunday the cold front will swing eastward with a line of heavy rain from New Orleans to New York as most of the wintry precipitation will be confined to northern New England.
Snow across the Midwest could exceed 6 inches for parts of Minnesota, Wisconsin, and Iowa where the winter storm watches are in effect. Another 3 to 5 inches of rain is possible from Oklahoma to Kentucky as the flooding risk continues through Saturday.
Copyright © 2018, ABC Radio. All rights reserved.