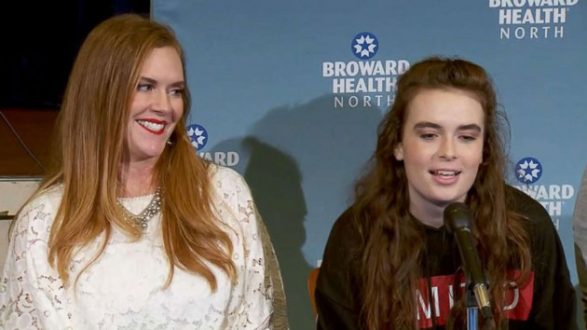 WPLG(PARKLAND, Fla.) — A Florida high school student shot at least three times in the Valentine's Day massacre says she's "so grateful to be here."
Junior Maddy Wilford, who doctors say is very lucky to be alive, was emotional as she spoke to reporters Monday morning.
Wilford suffered wounds to her chest and abdomen, and when she arrived at the hospital she was pale, not responsive and in shock, according to a doctor who treated her. She has since been released from the hospital.
"I'm just glad that I'm making a full recovery and everything's been going so smoothly," Wilford said, smiling and wiping tears from her eyes as she sat near her parents.
Wilford also thanked the officers, first responders and "amazing doctors" who helped save her as well as those who sent letters and gifts.
"All the love that's been passed around, I definitely wouldn't be here without it," Wilford said.
"I've seen a lot of positive posts about what's been going on at the school," she said, adding, "I just love the fact we're sticking together."
The teenager's father, David Wilford, said at the news conference he was "very grateful to be sitting here next to my daughter, alive and well today."
Her mother, Missy Wilford, added that her daughter "knows who she is" and what she wants in life. "That strength and power" helps you heal because it makes you want to get up and keep going, said Missy Wilford.
Seventeen people were fatally shot and over a dozen were injured in the Feb. 14 mass shooting at Marjory Stoneman Douglas High School in Parkland, Florida. The suspect allegedly fled after the shooting but was later apprehended.
School will resume later this week.
Copyright © 2018, ABC Radio. All rights reserved.