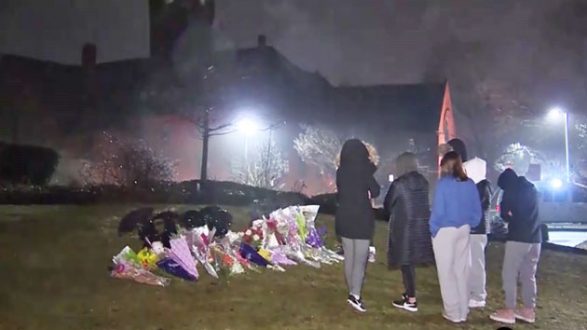 ABC News(WINCHESTER, Mass.) — A man is accused of stabbing a young woman to death with a hunting knife at a Massachusetts public library Saturday morning, prosecutors said.
Jeffrey Yao, 23, is accused of coming up behind Deane Kenny Stryker, who was sitting at a table at the Winchester Public Library, and stabbing her, unprovoked, the Middlesex District Attorney's Office said.
Stryker suffered about 20 wounds, prosecutors said in court today. Her injuries were to her head and upper torso, Middlesex District Attorney Marian Ryan said this weekend.
A 77-year-old man tried to intervene and was stabbed in the arm, prosecutors said. He survived and was hospitalized.
The weapon appeared to be a hunting knife with a 10-inch blade, Ryan said.
Yao, who was known to police, was arrested and charged with murder and armed assault with intent to murder, prosecutors said.
Yao's defense attorney told reporters today that his client has a long history of mental illness including hospitalizations, adding that his parents are devastated for the victim's family, ABC affiliate WCVB reported.
Stryker, 22, was a medical student, according to WCVB.
Yao appeared in court this morning and was ordered held without bail. A not guilty plea was entered on his behalf. He will next appear at a probable cause hearing on April 11.
Copyright © 2018, ABC Radio. All rights reserved.