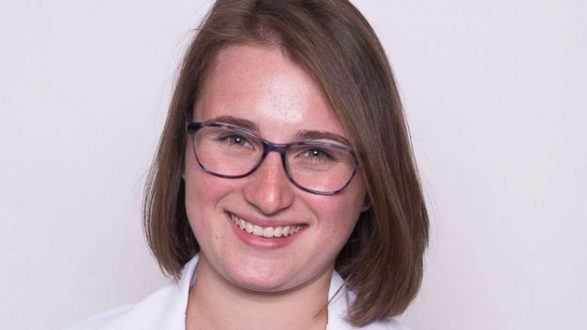 Courtesy University of New England(WINCHESTER, Mass.) — The first-year medical student stabbed to death at a Massachusetts library this weekend was a "sweet, warm, gentle" person who "would have been a really amazing doctor," according to her friends.
Deane Kenny Stryker, 22, was sitting at a table at the Winchester Public Library Saturday when she was attacked by a man with a 10-inch hunting knife, the Middlesex District Attorney's Office said. Jeffrey Yao is accused of coming up behind her and stabbing her unprovoked, prosecutors said.
A man who tried to intervene was stabbed in the arm and survived, prosecutors said.
Stryker suffered about 20 wounds, prosecutors said in court.
Friends of Stryker, a first-year student at the University of New England's College of Osteopathic Medicine, are now left reflecting on her short life.
"She was just really unapologetically herself," friend Liza Simmons told ABC affiliate WMTW in Portland. "You have to be so brave to be like that."
Simmons said it's "really sad that she never got to work with children. She would have been a really amazing doctor."
"There was a moment of shock and disbelief," friend Emily Schaffer said, according to WMTW. "There's just no way that this sweet, warm, gentle human being who would not hurt anyone, that this could happen to her. And we've just suffered a huge loss from this one person."
Stryker "was just beginning her journey toward becoming a physician and showed great promise as a student doctor who was passionate about medicine and helping others," university President James Herbert said in a statement.
"She was an advocate for domestic violence and mental health awareness, and an active member of her college community," Herbert said. "She served as an orientation leader and was part of a student organization that provides confidential peer support to other students who need a place to turn when they are struggling."
Yao, 23, who was known to police, was arrested and charged with murder and armed assault with intent to murder, prosecutors said.
Yao appeared in court Monday and was ordered held without bail. A not guilty plea was entered on his behalf.
Yao's defense attorney told reporters Monday that his client has a long history of mental illness including hospitalizations, adding that Yao's parents are devastated for the victim's family, ABC affiliate WCVB reported.
Copyright © 2018, ABC Radio. All rights reserved.