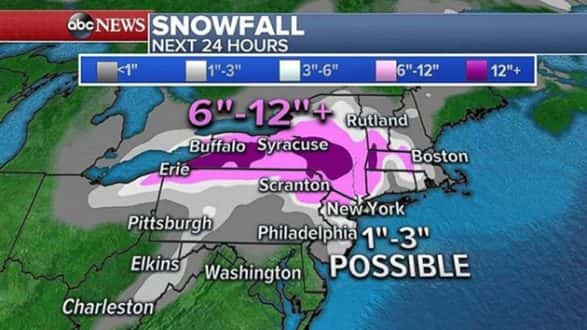 ABC News(NEW YORK) — A nor'easter pummeling the East Coast is expected to bring flooding, heavy rain and inland snow over the next 24 hours.
From Georgia to Maine, 17 East Coast states are on alert for damaging winds, flooding, heavy snow and coastal flooding. There is also a hurricane-force wind warning for offshore waters in southeastern New England.
Snowfall has reached 14 inches near Albany, New York, while Erie, Pennsylvania, has seen more than 12 inches.
At least 600,000 customers are without power Friday morning from Massachusetts to Virginia.
Winds are forecast to get stronger through Friday, gusting up to 40 to 60 mph in major cities such as Washington, D.C.; Philadelphia; New York City; and Boston. In the morning, wind gusts reached 56 mph at Washington, D.C.'s Reagan National Airport and 52 mph at Boston's Logan International Airport.
Prince William County Public Schools in the Washington, D.C., area are closed Friday due to high wind warnings.
More than 1,000 flights have been canceled in the United States on Friday, according to FlightAware. Nearly half of all scheduled flights at New York City's LaGuardia Airport have been canceled, the airport said.
The federal government has shuttered all of its offices in Washington, D.C.
In Massachusetts, officials are bracing for street flooding.
"I can't stress this enough: This is not a snowstorm, but it's a heck of a storm, and people need to take it seriously," Massachusetts Gov. Charlie Baker said at a news conference Thursday night.
Like coastal Massachusetts, New Jersey is expecting flooding, especially at high tide, where Atlantic City Fire Chief Scott Evans said, "We're preparing for major flooding. Let's keep our fingers crossed it's not as severe as they say."
Snow and rain will continue throughout Friday morning and into the afternoon. The heaviest snow is expected in western New York, northern Pennsylvania and western Massachusetts, with some areas seeing up to 1 to 2 feet.
An additional 2 to 4 inches of rain is expected in southern New England and Long Island, which will likely produce urban and highway flooding.
The storm should begin to move further offshore Friday night, with the precipitation ending Friday evening.
Copyright © 2018, ABC Radio. All rights reserved.