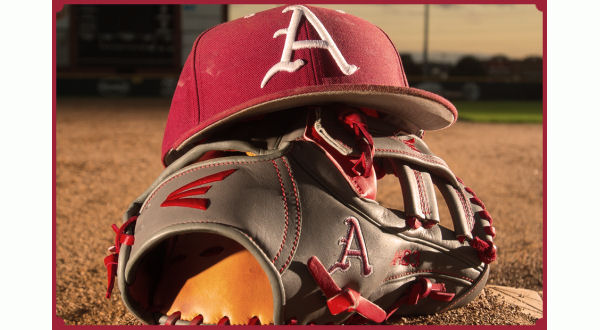 FAYETTEVILLE, Ark. – After not being penciled into the starting lineup Sunday at Baum Stadium, sophomore Dominic Fletcher was still ready for his late-inning pinch-hit appearance when he drilled a walk-off bases-loaded RBI up the middle to give the fifth-ranked Arkansas baseball team a 7-6 victory and series win over USC in eight innings.
Due to travel restrictions for the Trojans, both coaches agreed on not starting an inning after 4 p.m., which resulted in Sunday's game ending in the eighth inning.
The win is Arkansas' (9-3) first walk-off win of the year and seventh victory at home in eight games. The Hogs trailed 5-1 going into the sixth inning, but put up a four-spot in the bottom half of the sixth, benefitting from two hits and two walks, all with two outs.
The Hitting
Three different Razorbacks recorded multi-hit games on Sunday with junior Eric Cole leading the way with a 4-for-5 day, tying a career-high for hits in a game. Cole drove in two runs, both coming in key situations in the sixth and the eighth.
Casey Martin and Grant Koch both came away with two hits apiece. For Koch, it was his second multi-hit game of the series and extended his hitting streak to five games. Martin has hit safely in five-straight games also and is currently hitting .414 on the year, good for best on the team of any players with 25 or more at-bats.
The Pitching
On the mound, junior lefty Kacey Murphy was making his second start of the year, but was not as sharp as he was against Arizona last week. He was able to go four innings on Sunday, scattering five hits, but only gave up one earned run and struck out two on 66 pitches.
Freshman Jackson Rutledge picked up the victory, his first, after throwing a scoreless top of the eighth, allowing just one walk on 17 pitches.
Moments That Mattered
USC doctored up a big four-run fifth inning that pushed it ahead of Arkansas 5-1. The Trojans got three runs from a double by Dillon Paulson and then a single from Matthew Acosta. The fourth run came after a throwing error from Jax Biggers extended the inning and gave USC another run.
The Razorbacks got all four back in the sixth as their two-out approach at the plate paid off, scoring three of the four runs on two-out walks or two-out singles. Cole and Heston Kjerstad each had the RBI hits, while it was Jax Biggers and Luke Bonfield that got the walks to keep the inning alive. Cole scored the tying run on a wild pitch during Bonfield's at-bat.
Arkansas trailed by one heading into the top of the eighth inning, but got a quick inning out of the bullpen from Rutledge to set up a decisive bottom half of the inning. The eighth inning had started about nine minutes before 4 p.m., so the Razorbacks were down to their last at-bat.
USC had gone to the bullpen themselves to bring in right-hander Connor Lunn to pitch the eighth inning. Lunn had picked up the one-inning save the day before and was looking to do the same today.
Biggers led off the inning with a single, and then Cole drove him in with a triple to left-center to tie the game at 6-6 as Matthew Acosta's dive attempt came up empty. With the winning run on third and nobody out, Arkansas was able to breathe a little easier with the heart of its order coming up.
The next two batters, Kjerstad and Bonfield, were both intentionally walked to bring up the pinch-hitting Fletcher for his first at-bat of the game. The sophomore smoked a 1-1 pitch back up the middle to easily score Cole and give the Hogs their first walk-off win of the season.
Razorback Quotables
"It was a little bit of a sloppy game, at least on our side, it just felt like that from the get go. Jax (Biggers), for some reason, rushed that play and threw the ball into the ground. We were just thinking, 'Wow, this not our day.' We spot them a four-run lead, but the dugout was positive. My message to the players was we got four or five innings left. We don't have to score four runs in one inning. We just need to chip away a little bit. We punched in a couple of runs in the sixth. Next thing you know, we just keep fighting and then we're down a run, then they wild pitch us in and it's tied up. It happened pretty quick." – Head coach Dave Van Horn on the way his team came back from four runs down
"It was huge. His teammates were really pulling for him to come through. I told him when we came off the field to start the bottom of the eighth I said, 'If we get to the five hole, you're hitting, be ready to roll.' He kept his head in the game the whole game and did a great job with it. He had a really good batting practice inside today. He didn't try to overswing, he tried to stay through the middle, go the other way, and I just said, 'Just take that swing that you took in BP today to the game and you'll be fine.' He just tried to make contact and didn't try to hit a home run. He squared it up about as good as you can square it up through middle and I don't know what it was when it went back through the middle, but it was a lot harder than it came in. The team was really excited for the win, but just as excited for Dominic to get that big hit." – Head coach Dave Van Horn on Dominic Fletcher's winning hit
"I knew I would probably have a chance later in the game to get an at-bat if it was the right opportunity, so I just kind of stayed relaxed and cheered for my teammates." – Dominic Fletcher on not starting, but pinch-hitting at the end of the game
"He (Lunn) was a high spin rate guy, so the ball kind of looked like it was rising on me. First pitch I missed it pretty bad. I kind of told myself I needed to get kind of get on top of the ball. Then, Coach Van Horn gave me bunt. I didn't get that down, so I kind of really quick had to tell myself 'So what. Next pitch, I have to get it done this way with the bat.' He left me a pitch and I was able to put a good swing on it. Thankfully, the outfielder didn't catch it, so it worked out for us." – Eric Cole on his RBI triple in the eighth
Up Next
The Razorbacks won't play again until next weekend when they take on the Kent State Golden Flashes for a three-game series starting on Friday at 3 p.m. Game two will be on Saturday at 2 p.m., followed by the series finale on Sunday at 1 p.m.
WebReadyTM Powered by WireReady® NSI