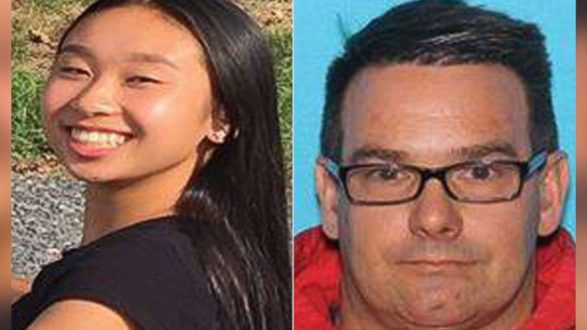 Allentown Police Department(ALLENTOWN, Pa.) — As Pennsylvania police continue to search for a missing teenage girl whom they fear may have run away with a 45-year-old married man, her mother is at home waiting for the telephone to ring and praying for her safe return.
"I just asked the police and I waiting and waiting and praying, and I don't know if they can catch him or not," Miu Luu told ABC News in an interview Saturday.
Amy Yu, 16, and Kevin Esterly, a 45-year-old married man who met the youth at their church, have both been reported missing since March 5, the Allentown Police Department said Wednesday.
The teen's anxious and admittedly "tired" mother suspects that the man who authorities say inveigled her daughter to flee with him wants him caught and her oldest charge back.
"If she's safe — that's okay. But I want them to catch the guy and bring her back," she said.
Missing 16-year-old girl may be with man who checked her out of school 10 times: Police
Esterly was allegedly carrying on a secret relationship with Yu, according to an affidavit of probable cause filed by the Lehigh County Deputy District Attorney Matthew Falk on Wednesday.
A warrant has been issued for Esterly's arrest on the charge of interference with the custody of a child.
Esterly, pretending to be her stepfather Yu's stepfather, allegedly signed Yu out of Lehigh Valley Academy 10 times, according to the affidavit citing school records.
Back on Feb. 9, Esterly signed her out of school "without [Luu's] permission."
On Feb. 15, Allentown investigators paid a visit to Kevin and Stacey Esterly's Allentown home and, according to the affidavit, "both… were advised to stay away from [Yu's] residence" because the mother didn't want them to have any further contact with her daughter.
Luu said she trusted the Esterlys because her daughter was close pals with Esterly's 15-year-old daughter.
"His daughter is a friend and just one year younger than Amy," Luu told ABC News. "I never thought he would act like that.
"I know him from the church and I know his family for years."
Despite Lehigh Country Child Advocacy Center intervening, Yu allegedly denied there was any relationship with Esterly.
Authorities now believe Yu altered school records, and without informing her mother, added Esterly as her stepfather.
Yu, according to the affidavit, admitted that Esterly signed her out of school "five to six times" without her mother's knowledge.
But after further investigation, it's now believed that Esterly, according to the affidavit, "fraudulently signed her out of school" early at least 10 times between December and Feb. 9.
Luu said that her daughter left with "a couple hundred dollars" in cash and that she also took "a little bit of jewelry and "took a passport."
In a statement, Lehigh Valley Academy confirmed that Esterly was last present at the school on Feb. 9.
"After that date, due to circumstances we cannot disclose pursuant to student privacy constraints, he was prohibited from entering school grounds, and the police were to be notified if he returned" the statement read.
Esterly's pretense of being Yu's stepfather and signing her out of school ended on Feb. 9 when her mother happened to arrive to the school to pick up her up and informed the school that Esterly was not the child's stepfather.
The school then summoned the Colonial Regional Police who have jurisdiction over Yu's school.
Luu told ABC News that the fact that she endorsed Esterly with such confidence has her in a state of self-reflection and also questioning strange incidents that at the time didn't seem as glaring as they do now.
"I asked Kevin, 'Why does Amy call you daddy?' and he said, 'That's normal. It's normal because my daughter talks like that,'" she recounted to ABC News. "I don't believe that now."
Luu told ABC News she also brought up the paternal reference with Stacey Esterly, because according to Luu, her daughter also called her "mom."
Stacey allegedly responded to her that "it was normal."
Multiple attempts by ABC News to reach Stacey Esterly were not immediately returned.
Also, in an interview with ABC News Saturday, Luu described Esterly as someone who developed an outsize influence on her daughter.
"I don't know why the guy wants to steal my daughter," she said. "The guy is very strong."
Luu told ABC News that since her daughter turned 16 she developed a wild streak and turned to the cops often.
Luu said Yu "won't listen to me."
"She was going out a lot and I called the police many times because my daughter I can't control," she said.
Luu added that Yu was an infant when her father left their home to return to China. And ever since Luu has been doing her best raise both kids as a single mother.
But when questioned by cops, Stacey Esterly, according to the affidavit, said that her husband withdrew $4,000 from her bank account and that Esterly's personal documents and 1999 red Honda coupe were gone.
Similarly, Yu's mother told police, according to the affidavit, that money, jewelry, and the teen's personal documents were taken from her residence without her permission.
Luu is concerned that her daughter and Esterly may have left the country and keeping a low profile. "They are hiding now hope they haven't left out of the country," she said.
Police have downplayed any leads they may have as they are convinced Esterly could be monitoring news and social media reports to counteract their effort to bring the youth back home and him under arrest.
"They know they are hiding," Luu recounted to ABC News, based on her conversations with police detectives. "So the police say that they have to be quiet and not say too much information."
Police describe Yu as standing 4-feet-11 inches in height, weighing 90 pounds.
Esterly is described as 5-feet-9 inches tall and weighs about 185 pounds.
In an Allentown Police Department alert, they describe Esterly and Yu and note how "Both persons were last seen on or about Monday, 05 March 2018 and could possibly be endangered."
They may be driving in a 1999 red two-door Honda Accord with Pennsylvania license plate KLT 0529.
Anyone who sees them is urged to call 911, local police or the Allentown Police at 610-437-7751.
Copyright © 2018, ABC Radio. All rights reserved.