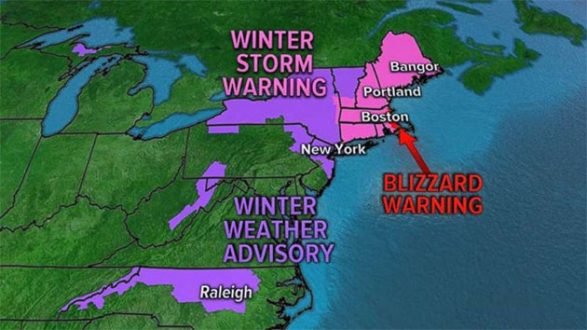 ABC News(NEW YORK) — Residents of three New England states — Massachusetts, New Hampshire and Maine — woke up Tuesday morning to a blizzard warning, as parts of Virginia and West Virginia saw between 12-18 inches of snow overnight and North Carolina saw as much as 7 inches.
A coastal storm is strengthening this morning off New Jersey as it plots a course northward.
By around 7 a.m. Tuesday, heavy snow bands will begin making their way into Long Island and Eastern New England, from Rhode Island to Massachusetts. Snowfall rates could reach 2 inches an hour as wind gusts approach 50 mph.
Snowfall in New York City, New Jersey, the lower Hudson Valley and Western Connecticut is expected to be over by noon, although it will continue into eastern Long Island and New England throughout the afternoon.
Evening rush hour in Boston probably will be a mess, with travel severely restricted and wind gusts reaching 60 mph.
By Wednesday morning, lingering light snow will continue for most of northern New York and into New England. Maine will see the heaviest snowfalls as the rest of the Northeast will see temperatures and wind chills that make March feel a lot more like February.
Some areas of New England could see up to 2 feet of snow over the next 24 hours.
Copyright © 2018, ABC Radio. All rights reserved.