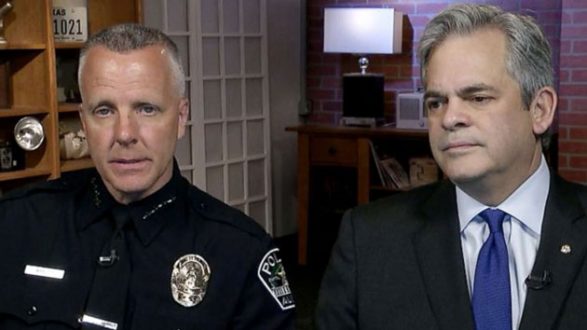 ABC News(AUSTIN) — The package bombs in Austin, Texas, that killed two people over 11 days were "constructed by the same bombmaker," Austin Police Chief Brian Manley said on Good Morning America Tuesday.
"There are some specific components that we won't go into the details to protect the integrity of the investigation, but there are some specific things we have seen that make us believe all three of these packages were constructed by the same bombmaker," Manley said.
Here's what ABC News knows right now:
2 dead, 2 hospitalized
On Monday, a teen was killed and a woman in her 40s was injured, and another woman was hurt in a separate blast. Another died because of the first blast. Each was harmed by one of the three explosive devices received as a "box-type delivery," Chief Manley told reporters Monday.
March 2
The first incident happened 11 days ago. Two others were reported Monday. "Significant damage" was inflicted by at least two of the blasts.
That first victim, Anthony Stephan House, died in the hospital.
Porch deliveries
The victims noticed packages left on their front porches, without any suspect ringing the doorbell or otherwise alerting them, Manley said.
'Be vigilant'
"We don't want to have people be overly alarmed," Manley said, "but it is important that people be vigilant and be aware of things that look suspicious."
Residents are being asked to report all suspicious packages. "If you see something that's out of place, do not handle it, do not move it, do not touch it. Call us," he added.
Monday's attack
The first explosion occurred around 6:44 a.m., police said. It was "very similar" to the March 2 incident, Manley said. The device was left in front of a single-family home in the northeast part of Austin.
The second attack Monday happened around 11:50 a.m. and injured a 75-year-old Hispanic woman.
"The victim in this incident came outside of her residence and found a package out front and picked up that package," Manley said.
The victim's name has not been released and she last was listed in critical but stable condition.
Unknown motive
"We don't know the motive behind these" attacks, Manley said, although two homes targeted had African-American residents and another the elderly Hispanic woman. "We cannot rule [out] that hate crime is at the core of this, but we're not saying that's the cause as well

$15,000 reward
Texas Gov. Greg Abbott has offered a $15,000 reward for information leading to the arrest of the person or people responsible for the explosions.
"I want to assure all Texans, and especially those in Austin, that local, state and federal law enforcement officials are working diligently to find those responsible for these heinous crimes," Abbott said in a statement.
Copyright © 2018, ABC Radio. All rights reserved.