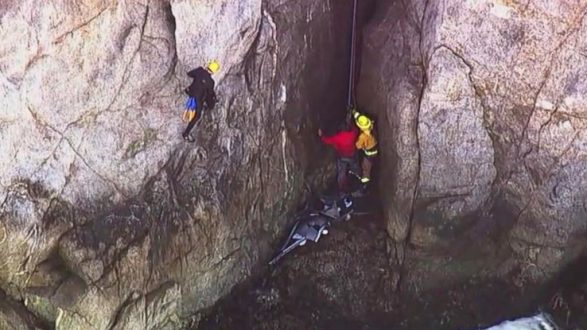 KGO-TV(MONTARA, Calif.) — A minivan driver survived a 130-foot plunge into the Pacific Ocean Friday morning after he he drove off a cliff on Highway 1 in Montara, California, authorities said.
Rescuers rappelled down the cliff-face to reach them man, who had already climbed out of his crushed vehicle, according to ABC station KGO-TV. The driver, who was the vehicle's only occupant, was attached to a rope and lifted up to the top of the cliff, the station reported.
California Highway Patrol said the driver, who they described as a tourist in in his late 30s, drifted off the shoulder of Highway 1 about half a mile south of Devil's Slide and went over the cliff's edge into the ocean.
CHP ruled out drugs or alcohol as factors in the crash and blamed operator error for the incident.
Rescuers said the man was hypothermic from being in the water but otherwise seemed OK, KGO-TV reported.
Rescuers initially had difficulty communicating with the driver, who speaks only Cantonese, but after a translators was found, he told them he did not have any back or beck pain.
He was taken to San Francisco General Hospital for treatment of non-life threatening injuries, authorities said.
Copyright © 2018, ABC Radio. All rights reserved.